update
DiscoEat receives seven-figure sum and gains 468 Capital as new investor
● The app DiscoEat fills empty tables during off-peak hours with the help of yield management and has offered delivery and pickup in addition to reservations since the end of 2020
● The number of restaurants has more than doubled since the last financing round: to currently over 700 restaurants in Cologne and Berlin
● Timely roll out of new features of smart QR code menus including ordering and payment options for guests via their own smartphone
Berlin,October 26, 2021 -  The renowned investor 468 Capital invested a seven-digit amount in the seed round of DiscoEat. Existing investors such as IBB Ventures and Hevella Capital also participated. The company, in which previously well-known business angels such as Emanuel Pallua (Aitme, Foodora), Julian Dames (Flink, Foodora), Felix Plog (Foodpanda), Benedikt Franke (Planetly, Helpling) and Florian Leibert (Mesosphere) have invested, is thus starting strongly from the end of the Corona crisis.
The new funding will be used to further expand geographically and to develop additional important features for restaurateurs, making the entire process and thus the dining experience more effective for both restaurateurs and guests. A key focus is the further development of digital menus including ordering and payment options for guests via their own smartphones. This is DiscoEat's response to the major problem of staff shortages in the restaurant industry, while enabling a more efficient ordering and payment process with average time savings of up to 15 minutes. Other features include self-ordering by the guest and automatic price adjustment when reservations are made during off-peak hours. Furthermore, ordering via one's own cell phone is more hygienic, which is why it is already subsidized by the government in many European countries. DiscoEat is thus developing into a guest-centric full-service provider for restaurateurs.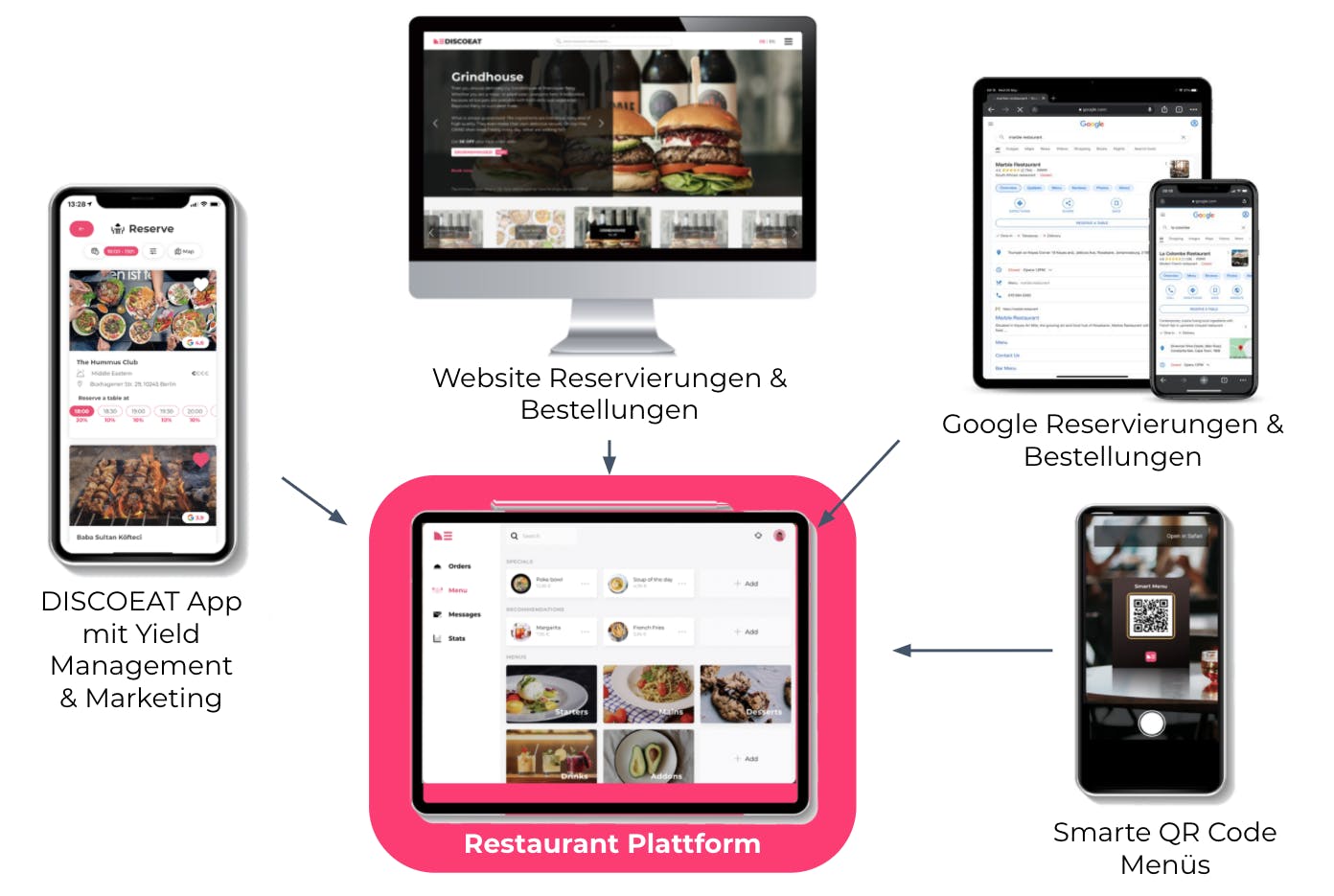 468 Capital Partner Alexander Kudlich: "Being able to order and pay digitally in a restaurant will become the standard - for restaurateurs and guests, this will make many things easier. I am sure that the technology will also become established in Germany and Europe. The DiscoEat team brings the best prerequisites to be very successful in the market."
Through the new integrations with Google, DiscoEat will soon offer its restaurant partners the opportunity to receive free reservations and orders through additional channels. In addition, orders via the company's own website will also be possible in the future. In addition to product development, the goal is to further expand the restaurant partner network and attract new customers for restaurants.
Before the Corona crisis, only tables at restaurants could be booked via DiscoEat. Since the end of 2020, users can now also order food at time-based prices, both for pickup and for delivery by the restaurant. To enable restaurateurs to better manage their load and reduce loss-making off-peak hours, DiscoEat allows them to adjust prices during off-peak hours.
About IBB Ventures
IBB Ventures (www.ibbventures.de) has been providing venture capital to innovative Berlin-based companies since 1997 and has established itself as the market leader in early stage financing in Berlin. The funds are primarily used for the development and market launch of innovative products or services and for business concepts in the creative industries. Currently, two funds with a total volume of EUR 122 million are in the investment phase. Both VC funds are financed by funds from Investitionsbank Berlin (IBB) and the European Regional Development Fund (ERDF), managed by the State of Berlin. IBB Ventures has already invested in more than 240 Berlin-based creative and technology companies; in consortia with partners, the startups received approximately EUR 1.62 billion, of which IBB Ventures has invested more than EUR 240 million as lead, co-lead or co-investor. IBB Ventures is the umbrella brand for the VC activities of IBB Beteiligungsgesellschaft.
Contact
Anvita Mudkani
IBB Ventures
Bundesallee 210
10719 Berlin
Tel: +49 (0)30 2125 3201
Mail: info@ibbventures.de