update
AUCTA raises half a million euros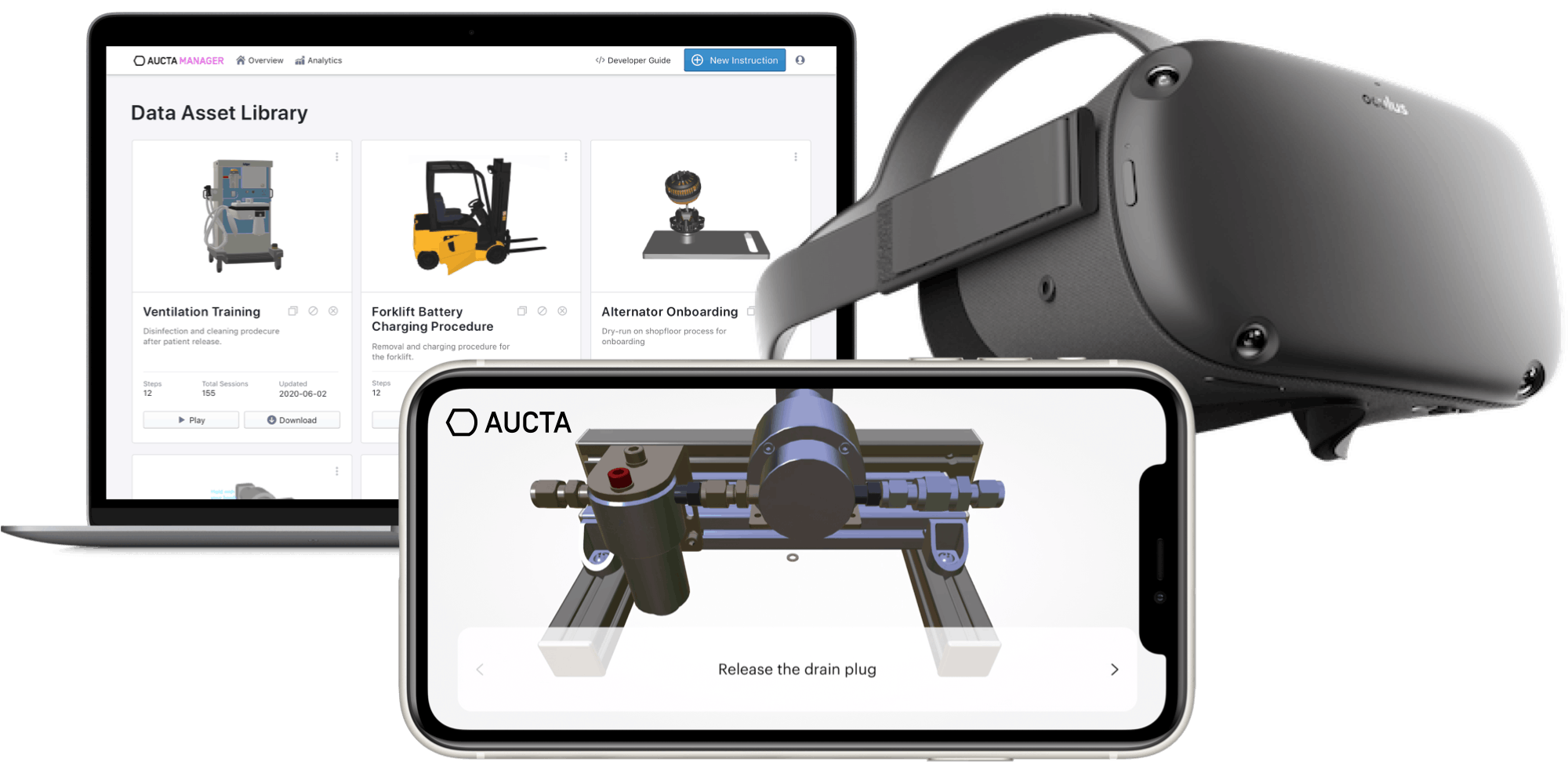 BERLIN/MADRID, December 16, 2020 - AUCTA, the provider of digital industrial solutions in the field of 3D visualizations, closes 2020 with a six-figure financing round. The tech start-up - founded by the trio Elías Alonso, Daniel Seiler and Henri Huselstein - develops software for immersive employee training and 3D instructions for industrial companies. AUCTA is already active in the DACH region and in the US. The company raised a total of 510,000 euros in a pre-seed financing round this year and secured the support of well-known partners, including APX and IBB Ventures. The fresh capital was primarily raised for the expansion of the team and further product development.
Since April 2020, early-stage investor APX, a joint venture between Axel Springer and Porsche, has stood alongside AUCTA as its first investor. After only six months, APX is once again investing in the Berlin-based tech start-up. "The crisis-year 2020 has left its footprint on industrial companies - in addition to the shortage of skilled workers that industry already faces. AUCTA addresses this challenge with smart technology. We strongly believe in AUCTA's potential and look forward to continuing to accompany them on their journey," says Henric Hungerhoff from APX. In addition to initial investor APX, IBB Ventures and two business angels also participated in the financing round. IBB Ventures invested from the government's package of measures in response to the corona crisis (Pillar 2 "corona aid for start-ups"), which provides financing for innovative companies with extraordinary growth potential affected by the corona crisis. "We are particularly excited by the team's ambition to transfer VR and AR technology, which has matured in the gaming sector among others, into industrial applications and thus achieve significant efficiency gains," says Stephan Schulze, Investment Director at IBB Ventures.
AUCTA enables industrial companies to automate their training through immersive technology. "With IBB Ventures, we were able to gain a strong partner from the region who can support us in our further development," says AUCTA co-founder Henri Huselstein about the successful pre-seed financing. "At the same time, we are very pleased that our initial investor APX has also joined the financing round, once again underlining its confidence in our team and our solution."
Following the initial investment from APX at the beginning of the year, the start-up had also received a start-up grant and a further investment from a business angel.
Designed for the industry of tomorrow
AUCTA's vision is to become the industry platform for 3D knowledge transfer. Co-founder Daniel Seiler: "We want to use the new capital to continue building the company, to strengthen our team with talent and to intensify into product development. The importance of advanced knowledge transfer solutions in industry continues unabated, despite or perhaps because of the coronavirus pandemic."
The AUCTA platform enables companies to virtually recreate physical training processes, use existing 3D content in flexible production and work environments, or support service technicians on-site with intuitive content. Furthermore, the 3D instructions realized by AUCTA can also be used with end-customers for sales or marketing.
A new form of information transfer
In recent months, the start-up has been able to win a number of companies for its products. AUCTA's software and 3D solutions are already being used in the DACH areas as well as the US. "We are now making 3D / VR training available to companies across the board. From training to production and service to the end customer, AUCTA covers numerous use cases," says Elías Alonso, co-founder responsible for technological development.
The AUCTA platform currently consists of three elements:
AUCTA Pipeline - Allows professionals to cost-effectively create instructions from 3D/CAD data and process knowledge,
AUCTA Manager - Allows customers to manage and control their 3D content,
AUCTA Player - Enables scalable use of 3D instructions via a simple link that can be accessed on all devices and platforms.
About AUCTA
AUCTA was founded in Berlin in the summer of 2019 by Daniel Seiler, Elías Alonso and Henri Huselstein. The start-up develops digital industrial solutions in the field of 3D visualizations and enables the automation of employee training through immersive technology. More info: www.aucta.io.
About APX
APX is Europe's leading pre-seed VC and accelerator program for very early-stage startups. Based in Berlin, APX invests across industries in teams building digital businesses - often as their first investor - and supports each team with an investment of EUR 50K, access to an extensive network, and a tailor-made growth program to secure follow-on financing.
APX is a joint venture between Axel Springer and Porsche. Since 2018, APX has invested in 60+ companies with founders from 20+ countries together with 100+ co-investors. APX is the successor to the Axel Springer Plug and Play Accelerator, which from 2013 to 2017 was the first investor in more than 100 startups, including fintech unicorn N26.
About IBB Ventures
IBB Ventures (www.ibbventures.de) has been providing venture capital to innovative Berlin-based companies since 1997 and has established itself as the market leader in early stage financing in Berlin. The funds are primarily used for development and market launch of innovative products or services as well as for business concepts from creative industries. Two funds with a total volume of EUR 100 million are currently in the investment phase. Both VC funds are financed by the Investitionsbank Berlin (IBB) and the European Regional Development Fund (ERDF), managed by the State of Berlin. IBB Ventures has already invested in more than 210 creative and technology companies in Berlin; in syndicates with partners, the start-ups received approx. EUR 1.52 billion, of which IBB Ventures has invested EUR 217 million as lead, co-lead or co-investor.
Press Contact
Henri Huselstein
Co-Founder & Managing Director
AUCTA UG (Haftungsbeschränkt)
Zionskirchstr. 15
10119 Berlin
contact@aucta.io
Contact IBB Ventures
Stephan Schulze
IBB Ventures
Bundesallee 210
10719 Berlin
Phone: +49 (0)30 2125 3201
Mail: info@ibbventures.de