update
Deep Tech startup nuventura closes funding round to enable an electricity grid without the strongest greenhouse gas in existence – SF6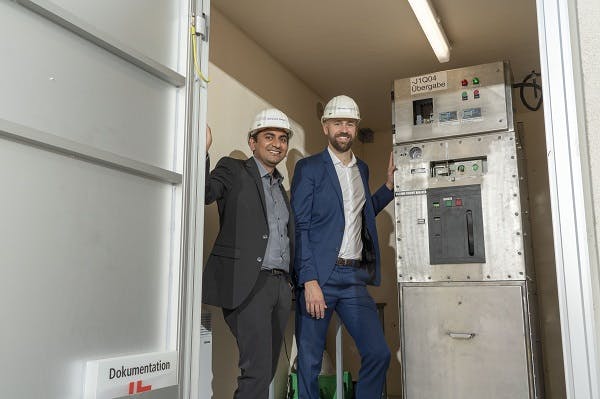 Berlin, 5. June 2019 - nuventura, a pioneer in sustainable electricity grid technologies, closes its seed investment round including E.ON, VC Fonds Technologie Berlin managed by IBB Beteiligungsgesellschaft mbH, Apex Energy Teterow and existing investors. Previously, the company had issued convertible loans to finance its early stage development which were now also converted into shares in the company. After the investment, several grants, loans and national and international innovation prizes won, the company now has a substantial 7-digit EUR amount at hand to realize its upcoming goals and milestones.
nuventura will use the new investment to continue certifying its sustainable, patented technology for gas insulated switchgear for commercial application in the medium voltage range and to enter the market for switchgear technologies as a technology licensing company. The new funds will also be used to realize several installations of nuventura's technology in electricity grids in and outside Germany and to develop additional products based on the company's patents.
The core principle of nuventura's technology is the avoidance of sulfur hexafluoride (SF6) – the most potent greenhouse gas in existence – in its designs for gas insulated switchgear (GIS). GIS are a fundamental component of any electricity grid. Instead of SF6, nuventura uses simple dry air in its switchgear design, while keeping all benefits of the SF6-technology.
SF6 has a global warming potential (GWP) of 23500, meaning that once released, its greenhouse effect is 23500 times stronger than the effect of CO2. It is a synthetic gas for which neither a natural sink exists, nor an effective disposal method is at hand, making its accumulation in the atmosphere virtually irreversible. On top of this, the gas is extremely long-lived: SF6's atmospheric lifetime is 3,200 years. Because of its strong global warming effect, its actual emissions equal to the CO2 emissions of approximately 100 million cars per year. While 85% of the total global SF6 production is used inside gas insulated switchgear (GIS), nuventura aims to replace this use case with its technology, to effectively abandon the use of SF6 at all.
"Our technology is currently unique in its market segment of medium voltage applications, because we managed to make it simpler and competitive with current technologies while adding additional benefits relevant for future smart grids." says Manjunath Ramesh, co-founder and managing director of nuventura. "We just use the air we breathe as a replacement of SF6. This simplifies production and operation substantially", he adds.
In addition to its new investors, nuventura is supported by a strong setup of existing investors and supporters, including experts from the industry such as Dr. Arndt Neuhaus, policy experts such as Dr. Christoph Wolff and Caio Koch-Weser or Dr. Kaveh Niayesh, Professor for power electronics at NTNU in Trondheim, Norway.
"Our aim as an accelerator and seed investor is to partner with startups that developed trendsetting tech, have a great and diverse team and that are able to set up pilots with the E.ON businesses," says Inga Land, Managing Director of :agile accelerator GmbH. "Nuventura brings all that along and we are looking forward to keep working with them.
Apart from the investment, it is planned to launch a pilot project together with E.ON's network operator E.DIS at a location near Berlin. "
As an ecologically responsible network operator, we are highly interested in finding alternatives to SF6 technology and actively contribute to climate protection." states Dr. Alexander Montebaur, Chairman of the Board of E.DIS AG. "We consider the innovative approach of nuventura as very promising.
Earlier this year, the electricity grid operator EWS Schönau already announced to install nuventura's technology in its grid in 2020.
"We are very happy to see a deep-tech company like nuventura evolve in Berlin and strongly believe in its potential to shake up a whole industry from here. The case is very compelling for us and shows, that sustainable technologies and solid business cases can go hand in hand", says Philipp Roth from IBB Bet.
Contact:
Ira Garbuz
nuventura GmbH
Jablonskistr 21
10405 Berlin
Tel: +49 30 120 875 297 
Mail: ig@nuventura.com
About IBB Beteiligungsgesellschaft
IBB Beteiligungsgesellschaft (www.ibb-bet.de) provides venture capital to innovative Berlin-based companies and has established itself as a market leader in the field of early stage financing in Germany. The funds are used primarily for the development and market launch of innovative products or services, as well as for business concepts of creative industries. Currently two of the funds managed by the IBB Beteiligungsgesellschaft are in the investment phase, the VC Fonds Technologie Berlin II with a fund size of 60 million euros and the VC Fonds Kreativwirtschaft Berlin II with a fund size of 40 million euros. Both VC funds are financed by means of the Investitionsbank Berlin (IBB) and the European Fund for Regional Development (EFRE) administered by the State Berlin. Since 1997 the IBB Beteiligungsgesellschaft, in consortia with partners, has made 1.43 billion euros available to creative and technology-orientated companies; thereof, the portion invested by IBB Beteiligungsgesellschaft itself, as lead, co-lead or co-investor, was approximately 200 million euros.
Contact:
Philipp Roth
IBB Beteiligungsgesellschaft
Bundesallee 210
10719 Berlin
Tel: +49 (0)30 2125 3201
Mail: venture@ibb-bet.de