update
Medbelle raises $7m (€6m) in Series A to Build World's First Digital Hospital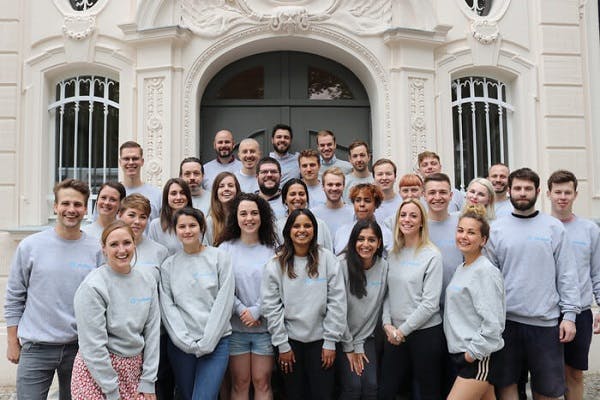 ● Funding round led by signals Venture Capital, with other investors including Talis Capital, Mutschler Ventures, IBB Beteiligungsgesellschaft and prior backer Cavalry Ventures
● Announcement signals rapid expansion of ground-breaking, end-to-end digital patient care platform 
● 30,000 Britons have already used new service to navigate their treatment journey, as founders on target to attract a further 144,000 users by 2020
● Medbelle bringing greater efficiency and transparency to the previously fragmented and bureaucratic healthcare sector
London and Berlin,  April 2019 — Medbelle, the UK's leading end-to-end platform for medical procedures, today announced $7m (€6m) in funding to accelerate the digitisation of the patient journey. The Series A funding round was led by signals Venture Capital and joined by Talis Capital, Mutschler Ventures, IBB Beteiligungsgesellschaft and Cavalry Ventures.
Already covering the majority of the UK, and with its eye on international expansion, Medbelle's three-layered 'digital hospital' model (Medbelle Platform, Medbelle Care, and Medbelle Operating System) places unprecedented control in the hands of patients, while giving healthcare professionals access to an integrated suite of management tools covering the entire treatment journey – from first consultation to billing, post-operative care and follow-up.
Patients book their procedure with Medbelle, which provides them with leading specialists and state-of-the-art operating facilities – with all organisation taken care of by the platform. The Medbelle service is designed to save them time, stress and money, ensuring that they benefit from the very best treatments and facilities available. Once a patient is registered, every aspect of their treatment is accessible via a single, simple web portal and app, or through their own personal Medbelle Care Adviser.
At the same time, the Medbelle Operating System ensures healthcare providers can make the most of their valuable time and resources. It allows specialists, hospitals and staff to work more productively, and liberates them from inefficient, unnecessary administrative tasks.   
Already enthusiastically backed by patients, with an outstanding Net Promoter Score (NPS) of 93 – making it the highest-rated medical provider in the UK – the cash injection will enable Medbelle to undertake the next phase of its roll-out. And with the UK private healthcare sector forecast to hit $13.8bn by 2023, it's a market opportunity that has proven highly attractive to investors.
In its launch phase, Medbelle was focused on privately-paid (self-funded) procedures in areas such as cosmetics, bariatrics and ophthalmology and is currently expanding into orthopaedics and fertility. In the future, Medbelle will work with private medical and public insurance providers / the NHS to leverage its technology and services to help patients with all types of medical procedure.
"The new capital will accelerate the development of our platform while growing Medbelle's operating footprint," said Daniel Kolb, co-founder and Managing Director of Medbelle. "It will allow us to streamline high-quality care at scale and take even more work off the hospitals' and specialists' shoulders. Our technology helps them to operate more efficiently, be better-utilised and fully focused on what matters most: the best care for patients."
Clemens Koós, investment manager at signals Venture Capital, said: "Major digital platforms improve customer experience in almost all industries, however, in healthcare, the digitisation of patient journeys has been heavily lagging behind until now. Medbelle's technology and personalised care enable much simpler and more affordable medical treatments - while allowing healthcare providers to efficiently focus on treating patients. We look forward to working with the Medbelle team and co-investors in expanding the platform to include more treatment specialities and increasing its reach."
Vasile Foca, Managing Partner at Talis Capital, said: "The digital health market is expected to reach $536bn by 2025 – so the time is right to be focusing on technologies that can transform healthcare and the patient journey as we know it today. We're proud to be backing Leander, Daniel and their high-quality team in this latest round as they roll out their truly digital treatment solution. Medbelle is the world's first digital hospital that creates real value for both patients and providers and offers unrivalled care from some of the country's best specialists."
Leander de Laporte, co-founder and Managing Director at Medbelle, said: "The 'digital hospital' creates real value for patients and healthcare providers alike and, therefore, can offer care from the best specialists in the country with a truly digital and personal experience. It's great to have new partners on board who bring such vast experience to the table. We all agree that an integrated model enables much faster deployment of technology to improve patient experience and reduce costs."
About Medbelle:
Medbelle is the first digital hospital - an end-to-end platform for medical procedures. We strive to create a world in which patients navigate their treatment journey digitally and receive personal care at the click of a button. We have integrated the entire patient journey to deliver a frictionless treatment experience for patients: We hire surgeons, rent operating facilities and provide a platform to streamline patient data, communication, provider selection, treatment pricing, scheduling and more. At the same time, our platform reduces workload and optimises utilisation of specialist doctors and hospitals. Our technology, patient care team and high-quality hospitals & specialists have garnered an industry-leading Net Promoter Score of 93 and have allowed us to help more than 30,000 patients all over the UK. Visit medbelle.com for details.
About Talis Capital:
Talis Capital is a venture capital investment firm that takes smart money from some of the world's most successful entrepreneurs and business people and invests it strategically in early stage technology companies with global potential. Talis has invested over $500m worth of transactions since 2009 and the portfolio includes Darktrace, Onfido, iwoca, Pirate Studios, Luminance, Ynsect and Oh My Green. Focused on building long-term partnerships, Talis leverages its network to give some of the world's most innovative startups opportunity to thrive. For more see www.taliscapital.com.
About signals Venture Capital:
signals Venture Capital is an early stage investor backed by
a €100m venture capital fund with a focus on forward-looking, scalable technology solutions that can transform or disrupt entire industries. signals Venture Capital invests in companies active in disruptive industries such as health, mobility and financial services as well as b2b business models all over Europe and Israel, especially in the field of Data & Analytics, Artificial Intelligence and Internet of Things. The portfolio companies profit not only from the classic venture capital support but also from the extensive ecosystem with renowned German and European partners, industry experts and diverse distribution channels.
About Mutschler Ventures:
Mutschler Ventures is the venture arm of a Zurich based family office, actively investing in start-up companies in the digital as well as blockchain world. Over the past years, Mutschler Ventures has been invested in e.g. Betreut.de, later care.com, Adyen, McMakler, Auto1, Sygnum, Loanboox and other companies in the German-speaking region.
About Cavalry Ventures:
Cavalry Ventures is an entrepreneurially driven VC fund based in Berlin with a focus on angel and seed-stage investments in Europe. The six founding Partners have repeatedly financed, founded, built and sold market-leading companies such as Delivery Hero, Tradeshift or plista. Being both, experienced investors and still active entrepreneurs, the cavalry offers hands-on support and a strong value-add to ambitious founders of fast-growing technology companies.
About IBB Beteiligungsgesellschaft:
IBB Beteiligungsgesellschaft (www.ibb-bet.de) provides venture capital to innovative Berlin-based companies and has established itself as a market leader in the field of early-stage financing in Germany. The funds are used primarily for the development and market launch of innovative products or services, as well as for business concepts of creative industries. Currently, two of the funds managed by the IBB Beteiligungsgesellschaft are in the investment phase, the VC Fonds Technologie Berlin II with a fund size of 60 million euros and the VC Fonds Kreativwirtschaft Berlin II with a fund size of 40 million euros. Both VC funds are financed by means of the Investitionsbank Berlin (IBB) and the European Fund for Regional Development (EFRE) administered by the State Berlin. Since 1997 the IBB Beteiligungsgesellschaft, in consortia with partners, has made 1.43 billion euros available to creative and technology-orientated companies; thereof, the portion invested by IBB Beteiligungsgesellschaft itself, as lead, co-lead or co-investor, was approximately 200 million euros.
Contact:
IBB Beteiligungsgesellschaft
Daniel Steffen
Bundesallee 210
10719 Berlin
Tel: +49 (0)30 2125 3201
Mail: venture@ibb-bet.de