insight
Female Power in our Portfolio Family

Tales of Berlin: Episode 1 Part 1
Berlin, both as a City and as a Culture, boasts an ever growing Following, especially the Startup Ecosystem has scaled massively over the last few years. As one of the few Venture Capital Investors who have been around for most of it, we felt we needed to share some of our experiences and those of others we have been lucky enough to share. That being said welcome to "Tales of Berlin."
I am thrilled and honoured to kick off our new content series "Tales of Berlin" today, covering on the topic of diversity and female entrepreneurship. If you like this article, is my modest contribution towards celebrating today's second anniversary of the International Women's Day as an official public holiday here in Berlin.
The International Women's Day is a global day celebrating the social, economic, cultural and political achievements of women. The day also marks a call to action for accelerating gender parity and is all about unity, reflection, advocacy and action. (A short and insightful historical outline of IWD can be found here.) Before we address the actual topic let's briefly face the facts one more time. In Crunchbase's EoY 2019 Diversity Report the following results were presented: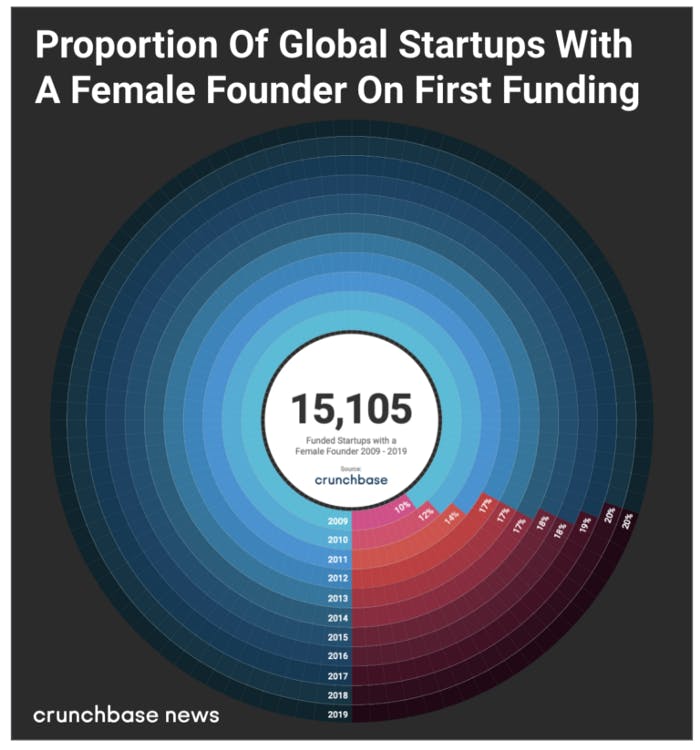 In 2019, $26.7 billion was invested into companies with at least one female co-founder; just over $6 billion in female only; and $20.6 billion in female/male co-founded companies. This is the second-largest funding amount invested in female founders in a single year. Another good piece of news is that 2019 was a record breaking year with 21 new female-founded unicorns compared to 15 new unicorns in 2018, with previous years all in the single digits.
In order to assess these good news and to put them into perspective one needs to zoom out to see the "bigger picture". This means that this $26.7 billion only account for 13 percent of all seed, venture and corporate venture dollars. More specifically, 2019 closed with 3 percent going to female-founded and 10 percent to male/female co-founded companies and since 2016 the proportion to female only and male/female co-founded has not shifted from 13 percent overall.
Yes, progress has of course been made: In the five years since 2014, close to 10.000 Startups, with at least one female founder, have raised funding and along with the changing funding environment, many notable female-founded venture firms like BBG Ventures, Forerunner Ventures, Ulu Ventures, Female Founders Fund, Jane VC, Auxxo or Moxxie Ventures just to name a few, have been set up in the last 10 years. Thus, the first steps have been taken in the right direction but still much ground remains to be covered before equal opportunities for men and women can be fully attained in our ecosystem.
Precisely because of this truth, I am not willing to shrug my shoulders and move on, but I rather want to shed some light on three female leaders who are not just running their businesses but also already help to pave the way for a new generation of female entrepreneurs.

I am proud that I had the chance to talk to Therese "Resi" Köhler CEO & Founder of heycater, Chanyu Xu CEO & Founder of her1 and Marie Henze Co-Founder of Bosque all of which are running start-ups I was lucky enough to invest in as a VC manager @IBB Bet. I talked tot them about their founding stories, their experiences as an entrepreneur and what drives them as a person. All three are exceptional individuals and I am very fortunate to work with them, backing their respective endeavors to change the world for good.
And now it is my pleasure to give the floor to them, I hope you enjoy this read:
Let me start by thanking you for giving up some of your valuable time to take part in this discussion about female entrepreneurship and what it is like to run your own company. At the beginning tell us a little bit about you and your founding story, from day 1 until now?
Xu:
First of all thanks for having me. I was thrilled when you told me that you want to speak up for female leaders at this year's International Women's Day and I am happy that it worked out so well.
You ask me to tell a few words about myself: Born in China and raised in Germany, I grew up in a family of entrepreneurial high-achievers, with parents who ran multiple successful restaurants across Germany. So it is no surprise that I too, became a serial entrepreneur and passionate foodie with multiple start-ups in the food-tech space.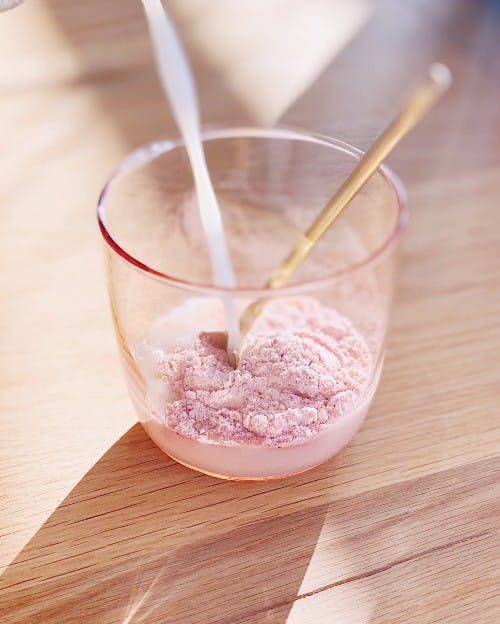 her1's mission: Wellcare Products that matter
After graduating from Berlin University of Arts, with a degree in Strategic Communications I co-founded my first successful SaaS Start-up, Customer Alliance, which has established a user-base of over 3,500 hotels across thirty five countries.
From 2013 onwards, I went on to co-found and launch several other food-tech startups backed by Rocket Internet, Holtzbrinck Ventures and FF Angel Fund (now Pathfinder). After experiencing the ups and downs and difficulties in scaling fresh food business models, I decided to start her1 in 2017. A DTC company for female health. With natural and plant-based remedies for women's health e.g. gut health, before, during and after pregnancy.
Resi:
First, thank you very much for giving me the opportunity of sharing with you some of my experiences and thoughts on female leadership as a start-up CEO. I took a different path compared to Xu; I started my own startup story without a specific parental background to simply solve one problem: easy access to good business catering with heycater.
I like to compare the ride to my school days where I went to kindergarten first. In the first weeks and months of founding the company we had no clue where to go, we have been enthusiastic every day like a four year old and played so much all day and night that I even took naps in the office when I had to.
Primary School started when we raised our first pre-seed money and wanted to deliver our first insights and prove that our market exists. During the three days after launch, we convinced enough people to place the first orders with us (one of them from Foodspring, thank you Philip!) and we're really proud to show everyone what "real traction" we had.
Soon we joined Secondary School, faced more competition and had to prove that we have better grades than the other eager students in the classroom. However, the others were able to afford private teachers and expensive work and sports gear — speaking of our two Rocket backed competitors with more funding — so we hustled hard to accommodate the lack of resources.
We also struggled with fear, insecurity and pressure to miss our target GPA, which made us even more volatile to make it when it was game time when we actually needed to fundraise.
In the end, repeating the year was our only and most valuable lesson. It taught us that inner strength and stamina could bring us anywhere and helped us to finally get our high school degree; our last funding round when IBB Bet, the Trivago founders and Hevella joined the ride.
Ever since we are still learning and reflecting every day. For us, it seems like we were lucky to have made it to the ivy league but feel like we are the only underdogs in the class. We know exactly where we want to go and feel like nothing can stop us.
Marie:
Also from my side, thank you very much that we can be together today on the topic of female founders and that I can be here with you.
I am a Co-Founder of Bosque and I'm in charge of everything that has to do with the actual product, our plants. I think the path that brought me here is quite unusual for a founder, as I have neither a tech nor a business background. And I am far from as experienced as Resi and Xu. For me, they are already real startup veterans from whom I can learn a lot especially when it comes to managerial leadership but I think I am a good example that there are multiple ways into the world of startups even with a rather atypical story.
Like most founders, I share this inner passion for our mission, but at the same time, it feels like I have practically made my hobby my profession because I studied landscape architecture and have also worked in this field. Until I met Alex, our CEO and got involved in the Bosque adventure and here I am, ready to roll up my sleeves and have a positive impact on the plant industry and how consumers think about plants as living beings.
Thus, I bring the plant expertise to the table and I am responsible for ensuring that our products are always staying ahead of the trends.
More specifically, based on the things you know today is there any learning from the past that you lean on daily?
Xu:
At my first company, we had to acquire B2B customers fast, to show initial traction to our first business angels and to test the software. Since we started bootstrapped, it was only my two co-founders and myself.
The most cost-efficient way, in my opinion, is tele-sales. I've never sold anything to anyone over the phone until then. After numerous "no's" and "don't-ever-call-me-again's" I got the hang of it. And it was actually fun and it is the best skill I've learned. It helped me to gain a deeper understanding of our customer's needs and how our sales funnel should look like.
In every company I started, I try to get as much customer interaction as possible. At her1 customer support is a great way to get insights into what our customers need and want. I take 30 minutes for customer support daily.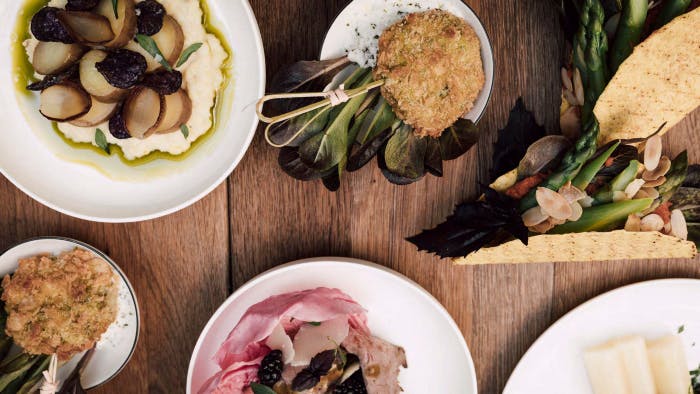 heycater's mission: B2B Catering | To make teams grow together
Resi:
Interestingly, my key takeaways are not so operations driven. I used to wake up unsteadily, at different times every day and quite last minute to optimize my sleep hours. I learned that this stresses me, that I carry this rush sentiment to the office and in the end deliver less quality output during the day.
Change was needed; I learned that I actually love routine. Waking up the same time, drinking a warm lemon water, having the same oat milk americano at the same bakery every day, enjoying the park part of my way to work where I can hear the most birds sing — these little same things mean the world to me and make me help me to improve as a person. By the way: a good read on that is "The power of habit".
Marie:
Personally, it is the realization that during the early days it is almost exclusively about finding the right people and encounter them with appreciation and kindness.
Moreover, it's becoming increasingly clear to me how important it is to establish a value-driven culture based on customer focus, enthusiasm, humbleness, humility and honesty. Or to use a floral analogy: As long as the roots are healthy only the sky is the limit.
Acknowledging that founding a company is comparable to a roller coaster ride, what's a lesson you needed to learn the hard way?
Marie:
I had to learn that sometimes it is better not to wait for the answer or reaction of others, but to make decisions by yourself, trusting your intuition and skills and just getting started. Because if you don't make a decision, then someone else will make it for you.
Basically, I have radically changed my perspective, away from the fear-driven thought of what could go wrong, to what is the upside if everything goes well.
Resi:
I can totally relate to that. There was a time, I was pumped up with fear and it almost cost me my company and where I was so anxious to make a mistake and to not be good enough that it ate me up. I tried to compensate this fear by working and working out obsessively.
I learned the hard way that I need to be fearless to be successful. I learned that the price of living a fearful life comes at the cost of not only sustainably outpacing myself but also at the cost of happiness, health and good sleep. I am artful with fear now.
If fear enters the room, I kindly greet it and walk it out again. This realization turned my life around and made me a better person.
Xu:
I know exactly what Marie and Resi are referring to and for me, it boils down to the notion: sometimes failing at something can be quite liberating eventually.
Given all the experience you have now, what is one piece of advice would you give someone starting a company today?
Resi:
If there is something you don't know just google it. If there is someone who could be valuable to you, get in touch with him. If you fall, rise with grace and kindness.
There is nothing that stops you from moving mountains but your own will and courage. Move your ass to work now. No excuses.
Xu:
I totally agree. Always ask for help and advice. I often hear that founders are too shy to ask for help or advice. In my 11 years as an entrepreneur talking to as many different people as possible and asking them for help or advice helped me grow.
It resulted in countless opportunities, partnerships and even friendships. Plus, don't expect someone else to do the jobs you've not mastered in your company whether it's sales, customer support or marketing.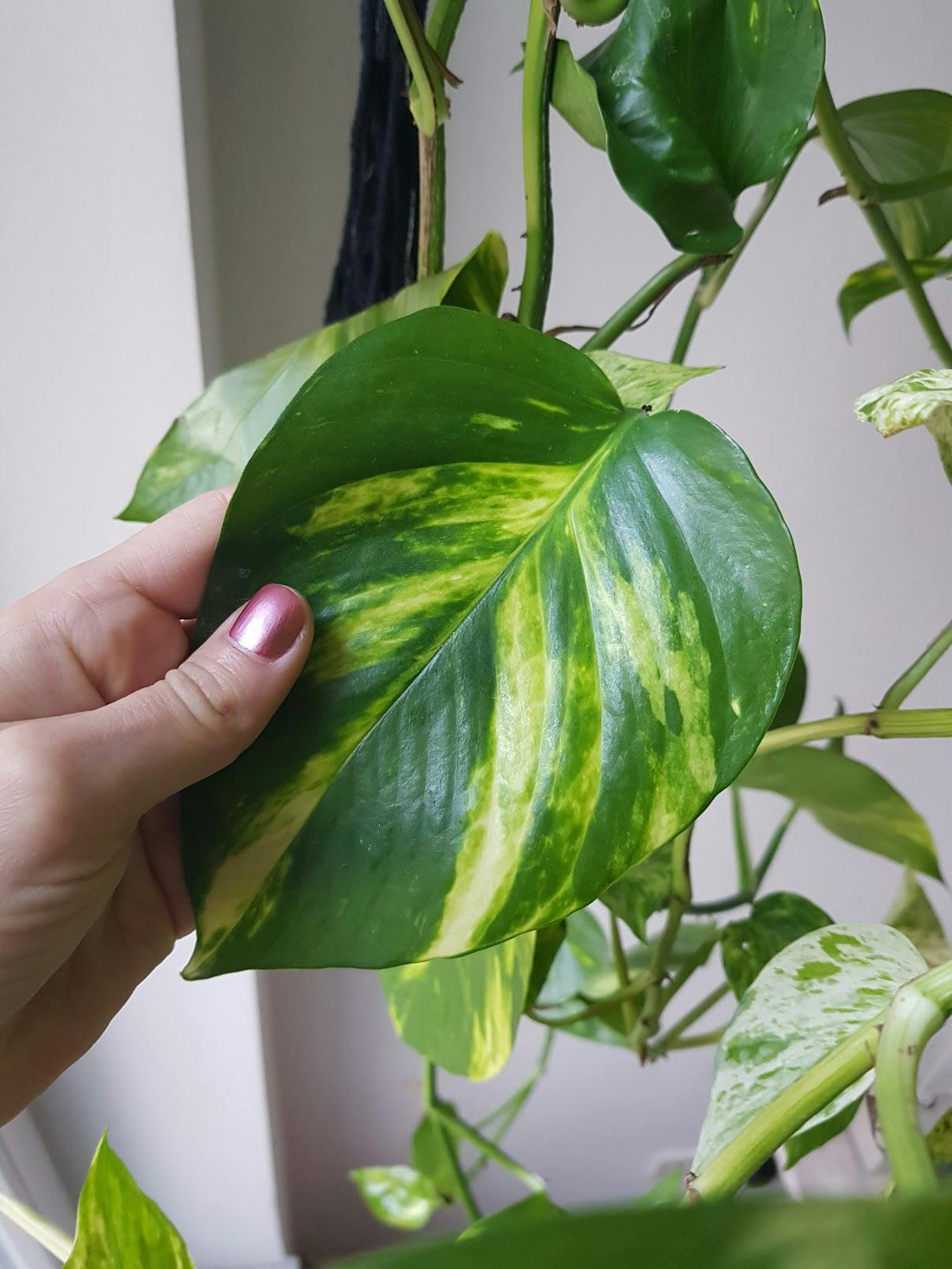 Bosque's mission: Bring. Nature. Home.
Marie:
Not to be afraid and to have the courage to move out of your comfort zone. By remaining in accustomed structures, one misses out so many great opportunities to grow. Discover your inner doer mentality and overcome your fear and when you start something, it's all or nothing.
These are some interesting points you were touching there and in terms of seeking for help or insights, what book should every founder read?
Xu:
"Why we sleep" — In times where our whole world revolves around launching a company, raising the next financing round, releasing a new product, managing & leading a team, analyzing KPIs and solving day-to-day challenges we might forget to take care of our body. Sleep is next to exercise and diet an essential pillar of our health.
Resi:
I would name three because all of them helped me growing in certain areas.
First, "The hard thing about hard things" by Ben Horowitz. This book helped me to survive during hard times. Second, my own journal. This book helped me reflect and grow. This is not a self-praise to my own story at all. I'm serious — every founder should write a journal daily.
And third, "How to win friends and influence people". This book helped me practice kindness which is core to my understanding of culture.
We hope you enjoyed the first part of this interview. The second part can be found here.
Check out Xu, Resi and Marie´s Companies:
About the Author:
Robert is working as a VC Investment Manager @ IBB Bet. with a strong interest in ConsumerTech, SaaS and Marketplaces. Besides a passion for good food and travel, he is a sport enthusiasts, crazy about football and still waiting for Union Berlin to win the UEFA Champions League.
You can reach us at: