update
BOOST Thyroid receives new investment by IBB Ventures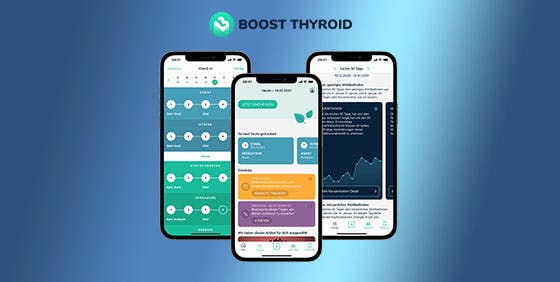 BERLIN, 19. Januar 2021 - Today BOOST Thyroid announced the closing of a new financing round, led by IBB Ventures and co-financed by angel investors. BOOST Thyroid is a Berlin-based health tech start-up providing the BOOST Thyroid app for patients with hypothyroidism and the autoimmune condition Hashimoto's.
IBB Ventures invests with funds from the Corona Support for Start-ups
"The sustained user growth, research growth, and business partnerships; including leading thyroid medication manufacturer Sanofi; we've gotten in the past year shows the market need for a digital thyroid solution," said BOOST Thyroid cofounder and CEO Dr. Vedrana Hogqvist Tabor. "We are working on bringing the most scientific, accurate, and understandable information around all the aspects of thyroid health to all of our users. In the past six months we have significantly evolved our product to the next level of technology, and contributed to increasing global awareness of thyroid conditions. With this most recent investment and a strong partner that we have found in IBB Ventures, we will continue building our app and technology with a promise of helping hundreds of millions of people."
Ute Mercker, Investment Director at IBB Ventures, commented on the investment: "Chronic thyroid disease concerns many people around the world, with up to 10% of the population affected in Germany alone. We are convinced that the BOOST Thyroid app will improve the management of the disease and their life situation." 
The BOOST Thyroid app personalizes the management of chronic thyroid conditions—resulting in improved health, less non-essential doctor visits, and fewer sick days.
The app supports patients with an underactive thyroid by providing:
●      Symptom tracking and analytics on a 5-point intensity scale
●      Medication adherence tracking
●      Lab test logging and visualizations of trends through charts
●      Informational health text on each symptom, medication, supplement, and aspect of hypothyroidism
●      A comprehensive overview of symptoms, medications and lifestyle for patients to present to their doctors
The BOOST Thyroid app has at least one software update per month and is used globally—available languages include German, English, and Spanish. Furthermore, the app utilizes algorithms that determine basal metabolic rate (BMR) and iodine status for each user, and thus delivers the most relevant information.
The company was founded in 2016 by scientist, health advocate, and thyroid patient Dr. Vedrana Högqvist Tabor and her partner, scientist and engineer Dr. Mikael Högqvist Tabor. Their goal is to build a solution to help hundreds of millions of people worldwide diagnosed with hypothyroidism. Jean-Etienne Parrot joined as a co-founder in 2020.
Additionally, BOOST Thyroid engages in rigorous scientific research through collaborations with the University of Oxford. These collaborations so far resulted in a better understanding of pattern variations in thyroid function, as well as validating BOOST Thyroid app's well-being benefit for people diagnosed with an underactive thyroid.
The investment from IBB Ventures will help with the go-to-market strategy, the further development of the app's technology, the expansion of the team, and ultimately progress of the most useful solution for people with thyroid conditions.
The BOOST Thyroid team combines science, technology, and the patient perspective. Seeking to empower thyroid patients around the globe daily lives and in conversations with their doctors, so they can better understand their health patterns and adhere to a healthier lifestyle.
About BOOST Thyroid
BOOST Thyroid is the leading global digital solution for people with thyroid conditions.
With symptoms and lab test tracking, doctor reports, and personalized health insights, BOOST Thyroid has become one of the most valuable solutions for improving the quality of day-to-day patient life.
BOOST Thyroid is furthering science research on autoimmune diseases through partnerships with the University of Oxford.
Since its founding, BOOST Thyroid app has been supported by the European Commission's Horizon 2020, as well as the German Ministry for Education and Research (BMBF).
For more information visit www.boostthyroid.com 
About IBB Ventures
IBB Ventures (www.ibbventures.de) has been providing venture capital to innovative Berlin-based companies since 1997 and has established itself as the market leader in early stage financing. The funds are primarily used for development and market launch of innovative products or services as well as for business concepts from creative industries. Two funds with a total volume of EUR 100 million are currently in the investment phase. Both VC funds are financed by the Investitionsbank Berlin (IBB) and the European Regional Development Fund (ERDF), managed by the State of Berlin. IBB Ventures has already invested in more than 240 creative and technology companies in Berlin; in syndicates with partners, the start-ups received approx. EUR 1.62 billion, of which IBB Ventures has invested EUR 240 million as lead, co-lead or co-investor.
Contact IBB Ventures:
Ute Mercker
IBB Ventures
Bundesallee 210
10719 Berlin
Phone: +49 (0)30 2125 3204
E-Mail: info@ibbventures.de