update
Germany-wide patient portal Krankenhaus.de successfully raises 2 million in growth capital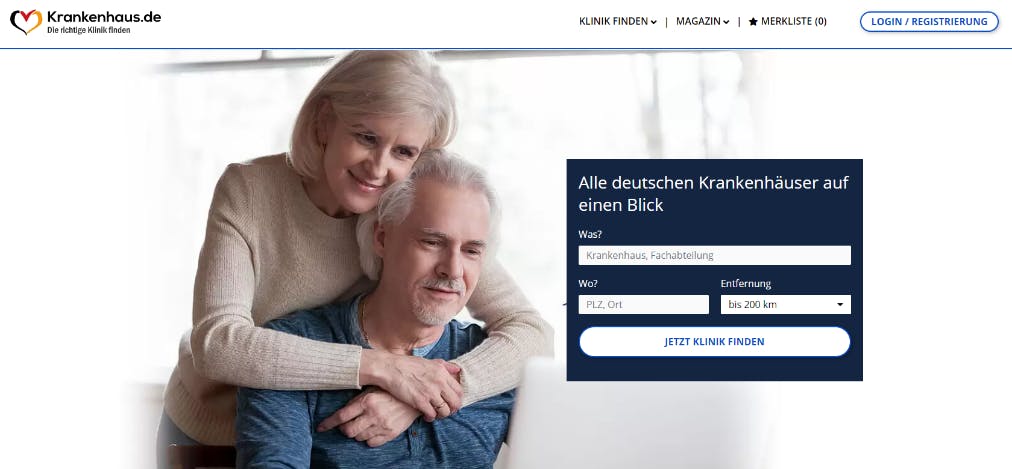 BERLIN, 30. March 2021 - As an overarching platform, Krankenhaus.de connects more than 2 million patients with German hospitals every year. In addition to fresh growth capital from investors IBB Ventures and capacura, samedi, one of the leading providers of eHealth solutions for healthcare institutions, is also investing in the Berlin-based startup for the first time. The goal of the strategic partnership is to establish Krankenhaus.de as the largest German platform for hospital appointment bookings.
Through close collaboration with technology partner samedi, Krankenhaus.de is evolving from a comparison portal into a platform for digital services related to hospital stays. The more than 2 million patients on Krankenhaus.de can now choose from appointments and video consultations at healthcare facilities throughout Germany at the click of a button.
Balthasar von Hohenthal, founder and CEO of Krankenhaus.de, is enthusiastic about the shared vision: "With Krankenhaus.de, we offer an attractive alternative to the prevailing isolated solutions in the digital hospital landscape. With our solution, patients can find information about all German hospitals on one overarching platform and easily organize their stay at partner hospitals digitally. By directly linking Krankenhaus.de's functions to hospital information systems, we are completely rethinking the patient journey."
Samedi founder and managing director Prof. Dr. Alexander Alscher is also pleased about this joint step: "With our strategic investment in Krankenhaus.de, we bring our highly secure and integrated eHealth technology to the most exciting marketing portal for hospitals in Germany. We see it as a blue print to support even more eHealth startups and DiGAs with our technology and market access and to accelerate their growth. At its core, it is about the increased benefit for our clinic customers through digital networking and integration. On the one hand, in the context of the KHZG and, on the other hand, so that hospitals can successfully position their medical service offerings and services on the market and implement new business models with our joint digital offering from Krankenhaus.de and samedi."
After closing the seed financing in May 2019, in which IBB Ventures and the Cologne-based impact VC capacura invested in the startup for the first time, Krankenhaus.de initially focused on growing its reach and expanding the information available to patients.
Christian Seegers, Senior Investment Manager at IBB Ventures, welcomes the development of the high-growth startup: "The rapidly increasing number of accesses and appointment bookings on the platform show that today's patients are looking for guidance, organizational support and more self-determination online. "
With the fresh capital, the company will now roll out digital services such as online appointment booking and video consultations throughout Germany.
Dr. Ingo Dahm, Managing Director of capacura, sees speed as a success factor: "Both technical interfaces and customer acquisition typically cost companies years in this challenging industry. By cooperating with technology partner samedi, Krankenhaus.de can skip the time-consuming "getting a foothold" in this market and firmly position itself directly with an extensive product portfolio ."
In addition, the two companies are jointly taking an important step towards a networked German healthcare system with the cooperation "made in Germany" under the highest data protection standards - also in distinction to large international players.
About Krankenhaus.de
Krankenhaus.de is a Germany-wide patient portal and a digital bridge between hospital and patient. Founded in 2018, the company has successfully established itself as one of the leading portals within a very short time with a focus on transparency and orientation for patients. All hospitals are listed based on official data from the annually published quality reports. Hospitals can actively position themselves on the portal and thus present their strengths, specialists, services and digital offerings in a clear and structured manner.
Contact Krankenhaus.de:
Sebastian Schwenke
Spitality GmbH
Müggelstr. 11a
10247 Berlin
Tel: +49 (0) 30 2201190 81
Mail: ses@krankenhaus.de
About samedi
Samedi is a SaaS Internet software that enables cross-sector networking in healthcare. Samedi offers all healthcare market participants a fast, secure and simple solution to share information, provide services and automate processes according to individual rules - completely web-based without additional hardware or software.
About IBB Ventures
IBB Ventures (www.ibbventures.de) has been providing venture capital to innovative Berlin-based companies since 1997 and has established itself as the market leader in early stage financing in Berlin. The funds are primarily used for the development and market launch of innovative products or services and for business concepts in the creative industries. Currently, two funds with a total volume of EUR 100 million are in the investment phase. Both VC funds are financed by funds from Investitionsbank Berlin (IBB) and the European Regional Development Fund (ERDF), managed by the State of Berlin. In addition, IBB Ventures invests in startups affected by the Corona crisis from its "Corona Aid for Startups" program. IBB Ventures has already invested in more than 240 creative and technology companies in Berlin; in consortia with partners, the startups received approximately EUR 1.62 billion, of which IBB Ventures has invested more than EUR 240 million as lead, co-lead or co-investor. IBB Ventures is the umbrella brand for the VC activities of IBB Beteiligungsgesellschaft.
Contact IBB Ventures:
Christian Seegers
IBB Ventures
Bundesallee 210
10719 Berlin
Tel: +49 (0)30 2125 3201
Mail: info@ibbventures.de