update
Sustainable switchgear technology firm Nuventura secures €25 million in Series A funding, to accelerate global energy industry's transition away from harmful greenhouse gases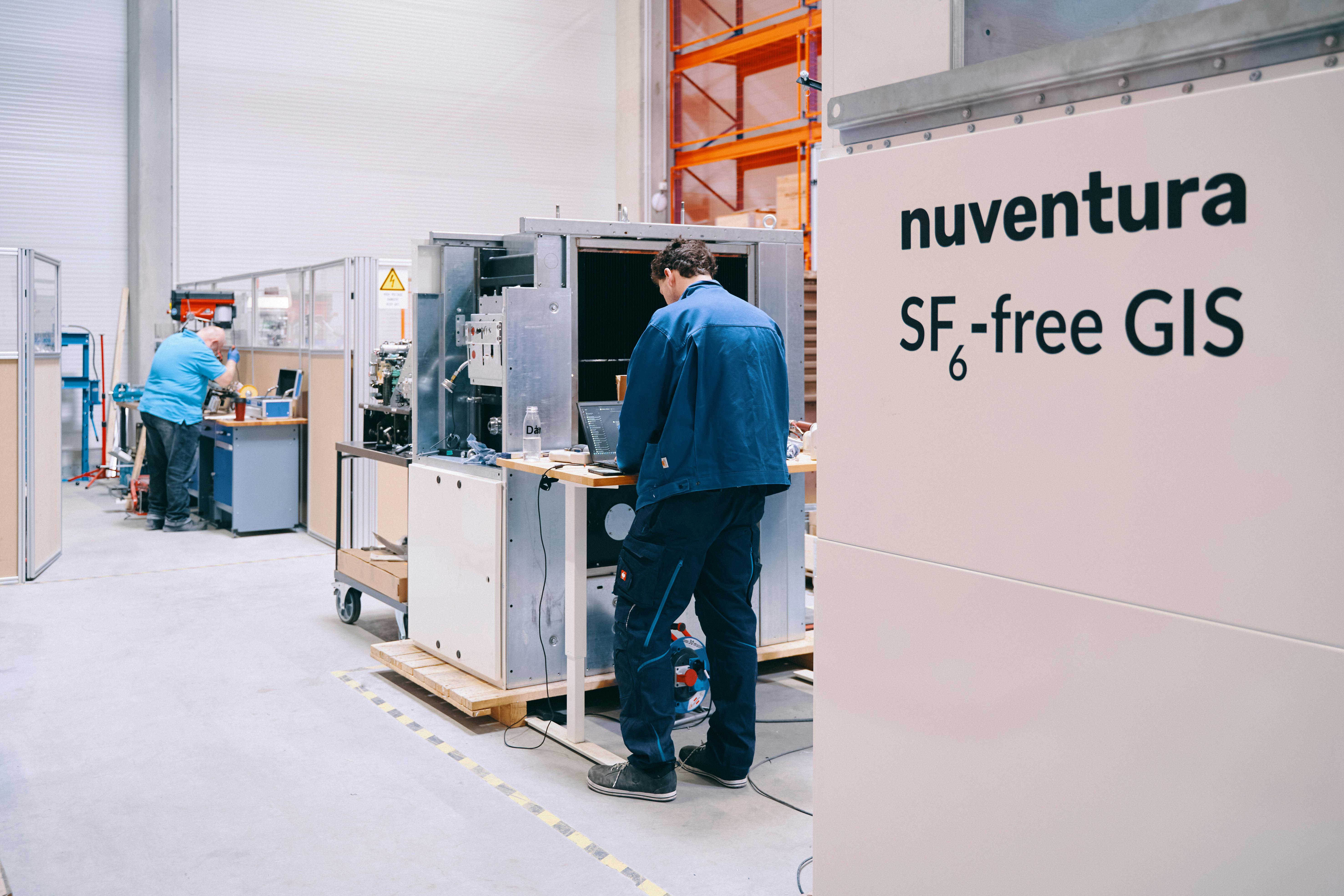 Berlin, September 5, 2023 – Nuventura, a leading provider of SF6-free, medium-voltage (MV) gas-insulated switchgear (GIS) technologies, today announces the completion of a €25 million Series A investment round.
The round is led by Mirova, through its impact private equity Mirova Environment Acceleration Capital fund, alongside new investors Forward.one and EIC Fund, and existing investors IBB Ventures, ADB Ventures, Cycle Group, Future Energy Ventures, and DOEN Participaties. The funding brings total investment in Nuventura to more than €35 million.
The capital will be used towards expanding Nuventura's product portfolio and the further development of its manufacturing capabilities around the world, as the company continues to drive the global energy industry's transition away from harmful greenhouse gas-based technology infrastructure.
Dr Fabian Lemke, Nuventura Co-founder and CEO, comments: "This is an extremely exciting time to be in this sector. Greater appreciation for the environmental threats posed by SF6 and accompanying regulatory oversight means that Nuventura, with our dry-air alternatives, is very much in the right place at the right time. This funding round is evidence of that and puts us in an ideal position to expand our operations internationally and continue providing sustainable switchgear alternatives for different use-cases together with our valued business partners around the globe."
Anne Boulet, Investment Manager at Mirova, comments: "The purpose of Mirova's environmental impact strategy is to foster the growth of innovative companies having a positive environmental impact. As the drive towards a progressive SF6 phase out is increasing, we are thrilled to have been given the opportunity to support Nuventura's great team in their international expansion and as such actively contribute to decarbonising the energy industry."
About Nuventura and sustainable switchgear:
Berlin-based Nuventura specialises in the development of environmentally friendly gas-insulated switchgear: key hardware components found throughout electrical grids and energy infrastructure. Its patented technology replaces industry-standard sulphur hexafluoride (SF6) - the world's strongest greenhouse gas, with 25,200x more global warming power than carbon dioxide - with dry air. There is significant urgency to implement these alternative technologies as regulators start to phase out SF6's use in energy infrastructure due to its significant negative environmental impact.
Nuventura works with original equipment manufacturers, EPC providers, and project developers in sharing its technology and dividing the value chain through a partnership model, with the aim of accelerating and facilitating the energy industry's transition away from SF6. In so doing, Nuventura helps companies become compliant with imminent international regulation focused on the use of SF6 in switchgear and extend their product portfolios for new market segments in parallel.
About Mirova
Mirova is a management company dedicated to sustainable investment and an affiliate of Natixis Investment Managers. Through conviction management, Mirova's goal is to combine long-term value creation and sustainable development. Pioneers in many areas of sustainable finance, Mirova's talents aim to continue innovating in order to offer their clients solutions with high environmental and social impact. Mirova and its affiliates manage €25.3 billion as of September 30, 2022. Mirova is a mission driven company, labelled B Corp*.
*The reference to a ranking or a label does not prejudge the future performance of the funds or its managers.
About FORWARD.one
FORWARD.one is a venture capital fund based in the Netherlands focused on deeptech hardware start-ups. FORWARD.one manages 200 million euros across multiple funds, with investments in Climate Tech, Semiconductors/Quantum and Industrial High Tech companies. With a team of financial professionals and technology entrepreneurs, FORWARD.one actively supports their portfolio companies to achieve their goals and ambitions. https://www.forward.one/
About EIC Fund
The European Innovation Council Fund from the European Commission is an agnostic Fund: it invests across all technologies and verticals, and all EU countries and countries associated to Horizon Europe. It provides the investment component of the EIC Accelerator blended finance. The EIC Fund aims to fill a critical financing gap and its main purpose is to support companies in the development and commercialisation of disruptive technologies, bridging with and crowding in market players, and further sharing risk by building a large network of capital providers and strategic partners suitable for co-investments and follow-on funding. The Fund pays particular attention to the empowerment and support of female founders as well as the ambition to reduce the innovation divide among EU countries. 
About IBB Ventures
IBB Ventures (www.ibbventures.de) has been providing venture capital to innovative Berlin-based companies since 1997 and has established itself as the market leader in early-stage financing in Berlin. The funds are primarily used for the development and market launch of innovative products or services as well as for business concepts in the creative industries. In addition to our two VC funds for Berlin-based technology and creative industries startups with a combined volume of EUR 90 million, our impact VC fund with a volume of EUR 30 million has been in the investing stage since 2022. All our funds are backed by Investitionsbank Berlin (IBB) and the European Regional Development Fund (ERDF), administered by the State of Berlin. IBB Ventures has already invested in more than 260 Berlin-based creative and technology companies; in consortia with partners, the start-ups received more than € 1.8 billion, of which IBB Ventures invested more than € 275 million as lead, co-lead or co-investor. IBB Ventures is the parent brand for the VC activities of IBB Beteiligungsgesellschaft.
Contact Person
Marvin Martsch
IBB Ventures
Bundesallee 210
10719 Berlin
Tel: +49 (0)30 2125 3201
Mail: info@ibbventures.de