update
Fertilly closes seed funding round - helping the unwillingly childless across Europe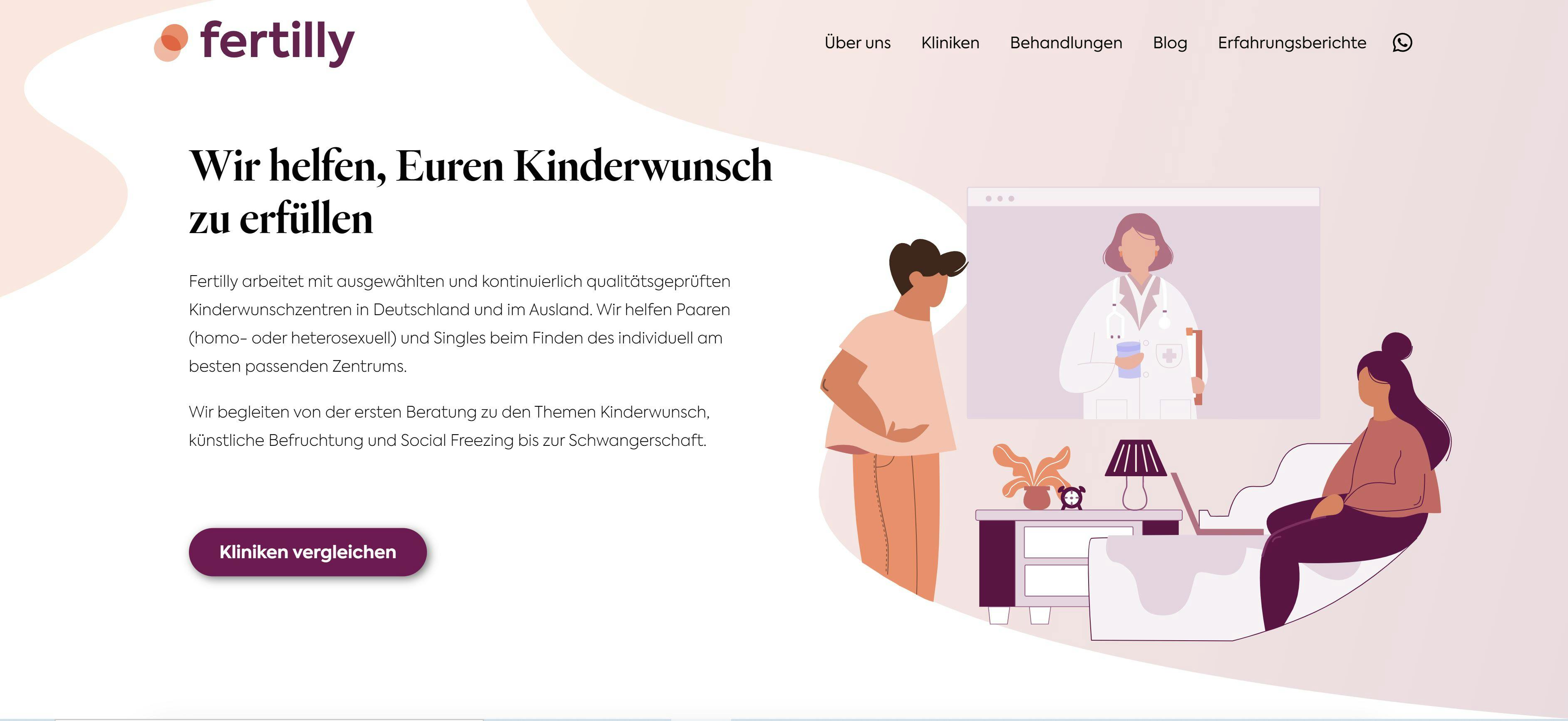 Berlin, June 2021 - Fertilly has been accompanying future parents on the way to fulfilling their wish to have a child for almost two years. What has been built up so far without external capital is getting new growth potential with seed financing from investors such as TA Ventures, IBB Ventures, Wille Finance, Sanner Ventures and several business angels.
Fertilly (originally founded under the name "Dein Kinderwunsch") advises women, men and couples free of charge on the topics of fertility, the desire to have children and family planning. These topics are of high social relevance, as 1 in 7 couples is involuntarily childless. Yet the discussion of infertility is still stigmatized in many parts of society, among women as well as men - Fertilly wants to change that.
By digitizing organizational steps and counseling services, which until now have largely taken place in clinics, Fertilly ensures better informed and educated patients. It offers unprecedented transparency in terms of treatment options, chances of success and costs, significantly reducing the number of clinic visits required on the way to treatment. Clinics benefit just as much as patients: By automating key process steps, a fertility clinic significantly increases its treatment capacity without requiring additional resources. Since 2019, hundreds of infertility treatments have already been successfully carried out using this approach.
The company intends to use the funding in two ways. Firstly, the expansion of the team and clinic network is to be driven forward in order to meet the strong increase in demand in the core markets of Germany, France and Italy. In addition, further markets are to be developed. The use of the platform www.fertilly.com remains free of charge for patients.
Christoph Müller-Guntrum, co-founder and CEO of Fertilly, reports: "Today, there is an average of one child in every school class who was born from artificial insemination. This number will continue to rise significantly in the future due to profound social changes. While fertility tech is already well advanced in the U.S., this development has just begun in Europe." 
On the other hand, a significant portion of the funding is being invested in the expansion of digital offerings. Digitalization is not stopping at the - until now largely analog - topic of wanting children. Due to its deep market experience and comprehensive clinic network, Fertilly not only wants to benefit from this development, but also to help shape it in crucial moves.
Stephanie Kaiser, co-founder and managing director of Fertilly, explains: "The topics of fertility, the desire to have children and family planning are moving into the digital world with increasing speed. Patients are becoming more empowered, have higher demands for transparency, and expect more and more patient focus from clinics. We look forward to playing a significant role in shaping this development in the fertility sector in the coming years."
Christian Seegers, Senior Investment Manager at IBB Ventures, says: "We are looking forward to supporting the Fertilly team on its growth path. Fertilly creates unprecedented value for both future parents and fertility clinics. With the consortium of investors now in place, Fertilly has the financial resources to further strengthen its market leadership in its core markets of Germany, France and Italy and to expand into new markets.
Elya Chechenieva, Investment Manager at TA Ventures: "In reviewing Fertilly as an investment opportunity, we saw not only an attractive market, but also a strong team that has developed a product to capture and digitize this market. In the face of modernizing legislation, confusing decision-making processes, and the ongoing stigma surrounding the topic of "unfulfilled desire to have children," we see Fertilly as the optimal way to serve expectant parents both through comprehensive counseling and with a hand-picked network of fertility centers."
Katharina Iten of Wille Finance - who already has a stake in Ava Fertility, among others - is pleased to be part of Fertilly's success story: "With this investment, we have found a strong team that successfully addresses problems with high social relevance through innovative solutions. We look forward to accompanying Fertilly on this journey."
About Fertilly
Fertilly has made it its mission to accompany women, men and couples on the path to fulfilling their desire to have a child. The company offers patients pre-medical counseling services and patient-centered, digital processes that make the path to a desired child much easier. In doing so, Fertilly helps to find the most suitable fertility center for each individual concern. The company is already active in Germany, Italy and France and aims to become the leading European platform on the subject of the unfulfilled desire to have a child.
Contact Fertilly:
Christoph Müller-Guntrum
Fertilly
Hagenauer Str. 2
10435 Berlin
Tel: +49 (0)30 403 6355 90
Mail: info@fertilly.com
About TA Ventures
TA Ventures is an early stage VC fund that supports startups in Europe and North America together with high-profile co-investors from a variety of technology sectors. TA Ventures invests in seed and Series A startups. In doing so, the fund follows a multi-sector focus strategy - priorities are Digital Health, Mobility, Enterprise Software, FinTech, Consumer Tech.
Contact TA Ventures
Elya Checheneva
TA Ventures
01029 Kyiv, Ukraine
Tel: +38 050 548 4522
Mail: info@taventures.vc
About Wille Finance AG
Wille Finance is an international, Swiss-based family office focusing on private equity, real estate, digital media and listed assets. Within Private Equity, Wille Finance executes early-stage investments (focus on ICT and Life Science), as well as late-stage investments.
Contact Wille Finance AG
Katharina Iten
Wille Finance AG
Stockerstrasse 47
8002 Zürich, Schweiz
Tel: +41 44 577 50 90
Mail: info@willefinance.com
About IBB Ventures
IBB Ventures (www.ibbventures.de) has been providing venture capital to innovative Berlin-based companies since 1997 and has established itself as the market leader in early stage financing in Berlin. The funds are primarily used for the development and market launch of innovative products or services and for business concepts in the creative industries. Currently, two funds with a total volume of EUR 100 million are in the investment phase. Both VC funds are financed by funds from Investitionsbank Berlin (IBB) and the European Regional Development Fund (ERDF), managed by the State of Berlin. In addition, IBB Ventures invests in startups affected by the Corona crisis from its "Corona Aid for Startups" program. IBB Ventures has already invested in more than 240 creative and technology companies in Berlin; in consortia with partners, the startups received approximately EUR 1.62 billion, of which IBB Ventures has invested more than EUR 240 million as lead, co-lead or co-investor. IBB Ventures is the umbrella brand for the VC activities of IBB Beteiligungsgesellschaft.
Contact IBB Ventures
Christian Seegers
IBB Ventures
Bundesallee 210
10719 Berlin
Tel: +49 (0)30 2125 3201
Mail: info@ibbventures.de