update
Biddz raises €4.4 Million in seed financing for digital innovations for music artists & fans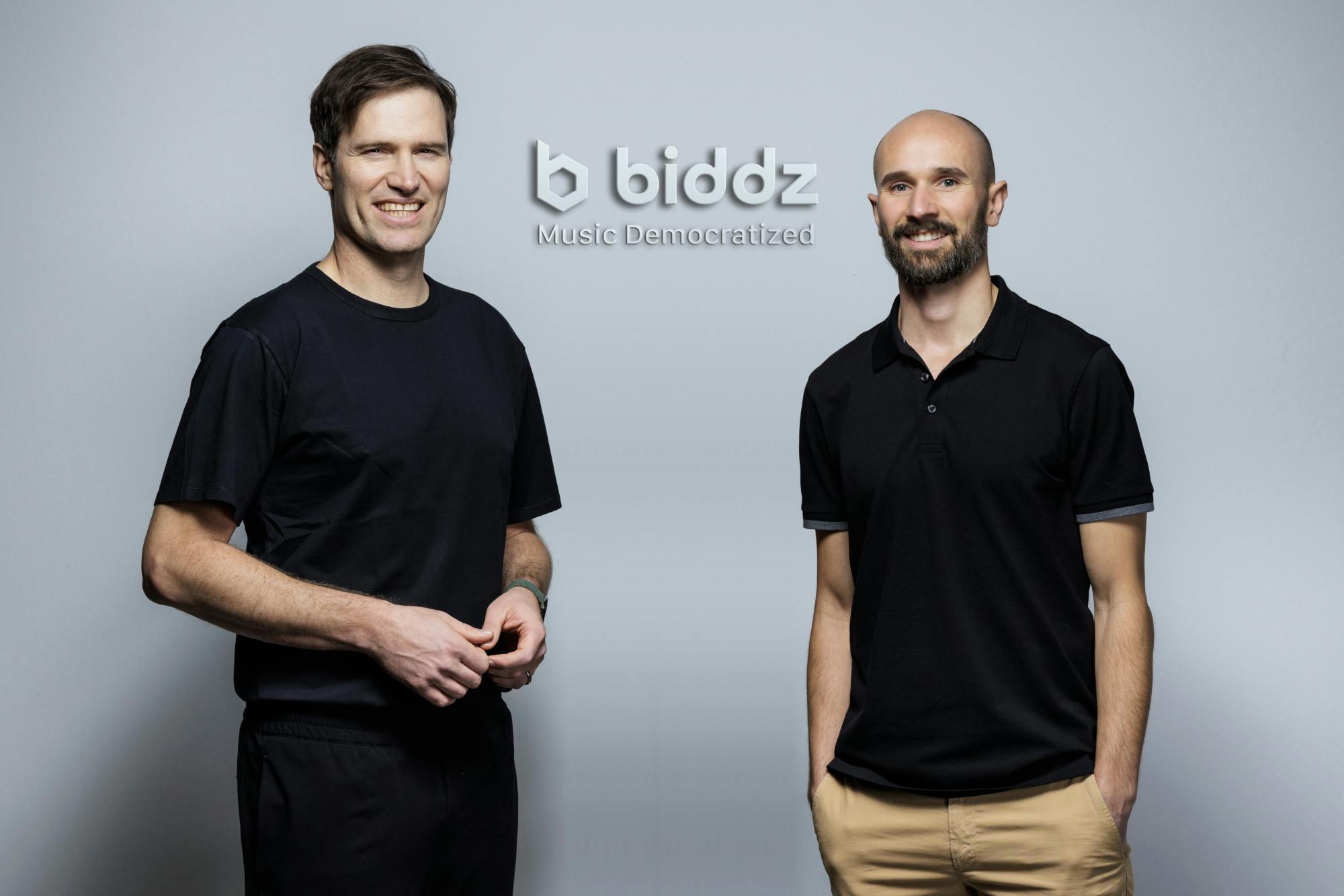 Biddz receives €4.4 million for more direct relationships and new monetization opportunities between musicians and fans.
Lead investors are Venture Stars and IBB Ventures, alongside Edel, Blockchain Founders Capital, and a host of new and existing angel investors.
Focus on growth and extension of features for artists and fans
Berlin, June 7, 2023 – The Berlin-based MusicTech startup Biddz has successfully completed a seed financing round of 4.4 million euros to drive digital innovations for musicians and fans. The round was led by lead investors Venture Stars and IBB Ventures. Other investors include Edel, Blockchain Founders Capital, and numerous well-known business angels. Biddz is committed to developing a digital platform to establish contemporary relationships between artists and fans, to expand monetization options of for music artists as well as to enhance the fan experience for superfans.
The music market continues to evolve in the digital age, offering opportunities for innovation, particularly at the intersection of music and social media. Despite the impressive growth of the industry, many artists face significant challenges in the sustainable marketing and monetization of their art.
Biddz taps into this potential for change and aims to address these challenges through the use of new technologies for providing a comprehensive community platform for musicians and fans including royalty investments, interactive ticketing and limited digital editions.
Founded by former Amazon Music managers, Michael Höweler and Dr. Alexander Franck in 2021, Biddz offers a platform on app.biddz.io that enables a more direct relationship between artists and their fans. Available as a web app since spring 2022, the platform integrates functions for building and communicating with the fan community and for monetizing these relationships. Biddz uses blockchain technology to offer fan community products such as BiddzShares in the area of streaming revenues, BiddzMoments for interactive tickets, and NFTs as digital collectibles. This allows artists to better monetize their music and events, while fans gain unique opportunities to support and interact with their favorite artists.
"Despite impressive growth in recent years, many musicians face significant challenges in the sustainable marketing and monetization of their art. In Biddz we see a team and a platform that offers a comprehensive and sustainable solution to these challenges," said Martin Junker, Managing Partner at Venture Stars.
"We are excited to work with this exceptional team," said Robert Kusche, Investment Manager at IBB Ventures. "Biddz's innovative solution has the potential to disrupt the entire music industry and create sustainable impact on a global level. We are proud to support Biddz's vision and help the team accelerate their growth."
Dr. Alexander Franck, Co-Founder & Co-CEO of Biddz, on the financing round: "Since the launch of Biddz last spring, we have made great progress in realizing our vision of the first truly integrated platform for musicians and fans. With the overwhelmingly positive feedback from artists, fans, and our investors, we look forward to making the added value of Biddz accessible to as many artists as possible of all genres and career stages and continuously improving our product for the benefit of our customers."
The capital received will be used by Biddz for growth, further development of the platform, and expansion into initial international markets. Focus areas are scaling artist distribution and strategic partnerships with artist teams, labels, and music distributors. In addition, artist experience and community features for fans are core of biddz' roadmap.
Press Contact Biddz
Biddz GmbH
press@biddz.io
Phone: +49 151 64305067
About biddz
Biddz enables music creators to foster more direct relationships and new monetization opportunities between music creators and fans. Artists can build a 100% reachable community on app.biddz.io and promote and monetize all music- related products, while fans can actively and directly support and engage with their favorite artists as never before.
Biddz was founded in 2021 by former Amazon Music managers Michael Höweler and Dr. Alexander Franck and has been available since 2022 as a web app with integrated community and monetization features for artists and fans.
With BiddzCircles, a one-of-a-kind digital fan club, artists can easily and efficiently gather their fans in their own community, inform them purposefully, and involve them. Through the personal feed, integrated chat, and SMS, artists can directly address their community, supply them with exclusive content, or receive quick feedback through polls, for example. Thanks to blockchain technology, BiddzCircles exist independently of the platform and always remain in the hand and direct access of the artists.
With biddzShares, artists of all career levels and genres can distribute their tracks and albums to Digital Streaming Platforms (DSPs) such as Spotify or Amazon Music and share the corresponding streaming revenue from their tracks and albums with their fans. This gives artists the opportunity to receive industry-standard advances and to activate fans early on as part of release marketing. On the other hand, fans have the opportunity to invest in the works of their favorite artists and receive exclusive benefits.
With biddzMoments, artists have the opportunity to make live events even more memorable for their fans. The novel tickets not only serve as admission authorization but also enable fans to access exclusive fan benefits such as exclusive digital content and interaction with the artists and other fans before, during, and after the event.
In addition, Biddz offers artists the opportunity to create limited digital editions of their releases as NFTs and make them accessible to their fan community.
Since its launch in 2022, both established artists such as LEA, Dardan, Lucio101, or Negatiiv OG, as well as a multitude of newcomers, have been using Biddz to sustainably reach their fan community.
About VentureStars
Venture Stars is a venture capital fund based in Munich focusing on early-stage investments in innovative digital B2C and B2B business models. The Venture Stars team typically invests between €0.5 million to €1.5 million initially, and up to €3 million per company. The Venture Stars partners are serial start-up entrepreneurs themselves and work closely with the founders of portfolio companies. The collaboration with Venture Stars typically goes beyond the investment of capital and includes know-how, network, and operational support in areas such as strategy, organizational development, financing, and exit.
About IBB Ventures
IBB Ventures (www.ibbventures.de) has been providing risk capital for innovative Berlin-based companies since 1997 and has established itself as a market leader in early-stage financing in Berlin. The funds are primarily used for the development and market launch of innovative products or services, as well as for business concepts in the creative industry. In addition to the two VC funds for technology and creative companies with a volume of €90 million, an Impact VC Fund with €30 million has been in the investment phase since 2022.
All three VC funds are financed from funds from the Investitionsbank Berlin (IBB) and the European Regional Development Fund (ERDF), managed by the state of Berlin. IBB Ventures has already invested in more than 260 Berlin companies; in consortia with partners, the start-ups have received more than €1.8 billion, of which IBB Ventures has invested more than €275 million as a lead, co-lead, or co-investor. IBB Ventures is the umbrella brand for the VC activities of the IBB Beteiligungsgesellschaft and is part of the IBB Group.
Contact Person
Robert Kusche
IBB Ventures
Bundesallee 210
10719 Berlin
Tel: +49 (0)30 2125 320
Mail: info@ibbventures.de