update
New investors for sofatutor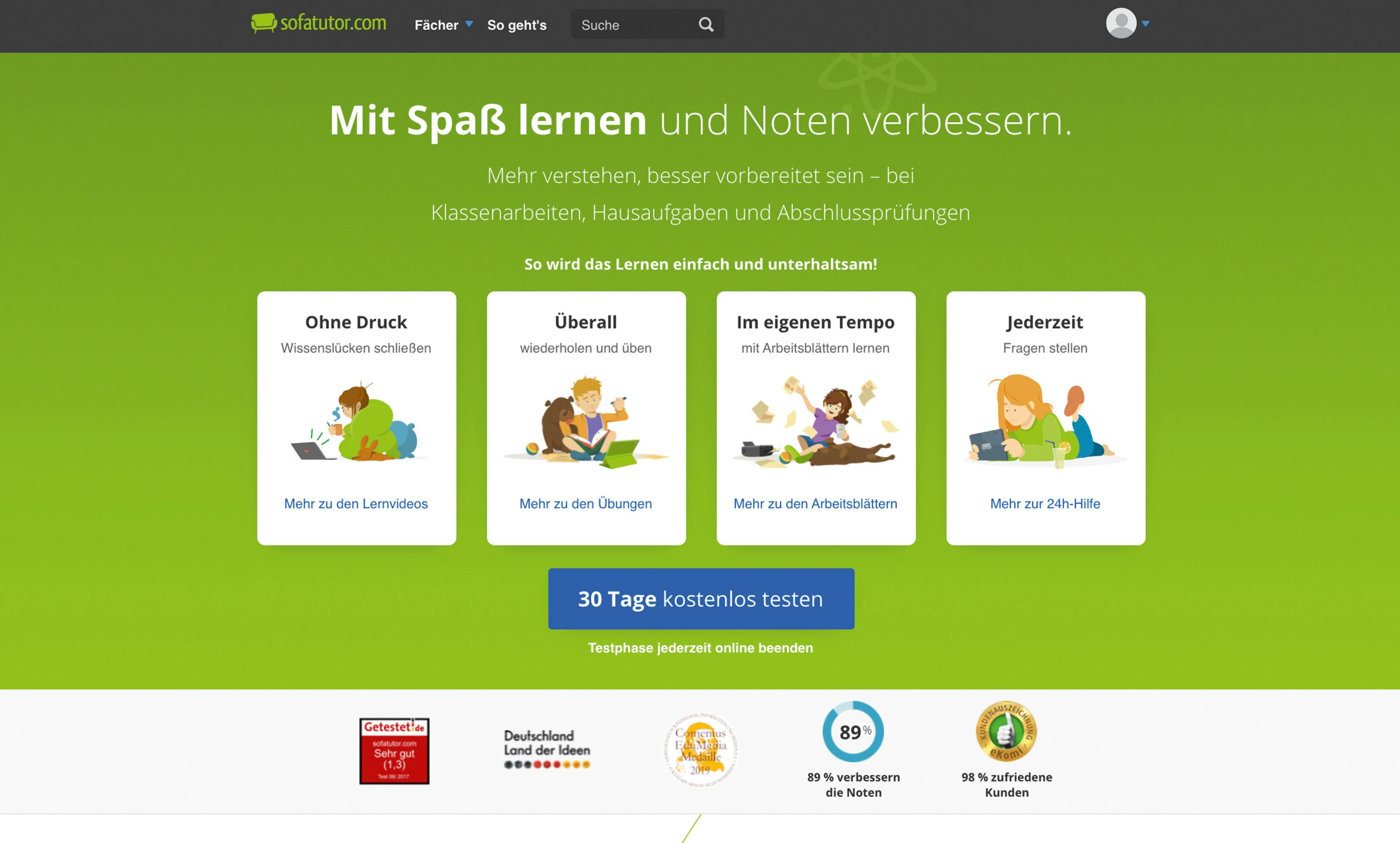 BERLIN, 17. March 2021 - sofatutor, a pioneer of online learning in Europe, reorganizes its investor structure. With a consortium consisting of the Munich-based investor EMERAM Capital Partners, the Sustainable Bond of the European investment company GIMV and others, experienced investors support the constantly growing online learning platform. They are thus replacing the previous investors - including the well-known venture capital funds Acton Capital Partners, Frog Capital and IBB Ventures - and taking over their shares.
"We would like to thank our previous shareholders for their successful cooperation over the past years. Without their financial and content-related support, we would not be where we are today. In line with the 'venture capitalist' business model, a partnership ends here after a few years to the full satisfaction of all parties. We have found exactly the right investors for the next growth cycle", says Stephan Bayer, founder and CEO of sofatutor. "Operationally, not much is changing: we remain true to our innovation DNA, have a tremendous appetite for growth, and will continue to set new standards in school-based learning."
The sofatutor product and service portfolio includes a wide range of more than 11,000 videos as well as over 40,000 exercises and just as many worksheets for 14 different school subjects. Students can flexibly access materials via sofatutor's web-based platform and app and receive homework help from qualified teachers in a real-time chat.
After the most successful year in the company's history with currently around one million users and cooperations such as with Deutsche Telekom and the state governments of Bremen and Saxony, the new investors are now providing funds for growth and further development of the range of services and are accompanying the company in the next growth phase. Among other things, the Berlin start-up, which has come of age, plans to develop even more digital learning models together with schools and school authorities - and thus also to consolidate its place in the school curriculum. Stephan Bayer is optimistic: "We want to support schools, teachers and students not only in the afternoons, but also provide digital learning content in the mornings when schools are in session."
The investors share these objectives:
"Good education is a significant factor for a country's society. That's why we want to support sofatutor in continuously expanding its learning offering. The company is already experiencing high demand for its digital learning offerings, which has been further strengthened by homeschooling and COVID-19. We would like to continue this success story," confirms Dr. Christian Näther, founding partner of Emeram and head of the investor consortium.
Näther was able to attract co-investors from the impact investing sector, among others:
"With the investment in sofatutor, Gimv reinforces its ambition to invest in future-oriented companies along the fundamental consumer trends of digitalization, sustainability and convenience and, together with EMERAM, supports an excellently managed company that perfectly addresses the United Nations goals in terms of high-quality education as well as digital innovation with its digital offering," says Dr. Sven Oleownik, Partner and Head of M&A Germany at Gimv. Koen Bouckaert, Managing Partner and Head of Consumer bei Gimv, adds, "We are therefore particularly pleased to allocate part of our recently launched Sustainable Bond to sofatutor's growth story, thus making a significant contribution to the development of the company in particular and society in general."
The departing investors extend their thanks to the management:
"We have been able to accompany the growth of sofatutor for more than ten years and are proud and grateful to have undertaken this exciting journey together with the managing directors Stephan Bayer, Colin Schlüter and Arne Strawe. Our collaboration has always been characterized by respect, constructiveness and fun at work," says Dr. Christoph Braun, Partner at Acton Capital Partners and Chairman des sofatutor-Beirats.
The shareholders and management of sofatutor were advised by GCA Altium, SMP and GOF. The investor consortium around EMERAM was advised by IEG Investment Banking Group, GLNS and McDermott, PwC and Xperify. Details of the agreement were not disclosed. The transaction is expected to close by the end of April.
About sofatutor
Founded 13 years ago by Stephan Bayer, sofatutor.com is now the most comprehensive online learning platform in the German-speaking world, with over one million users, more than 11,000 learning videos and over 43,000 exercises. With its life mission to improve education, Bayer and its team of over 200 help students from elementary school to high school graduation - and has become a pioneer and backbone of educational digitization and homeschooling, especially in the Corona Year. The learning content is age-appropriate and based on the current curricula of the German states.
Presscontact sofatutor GmbH
Tina Rettschlag 
Email: presse@sofatutor.com 
Telefon: +49 (0)30 515 88 22 13
About EMERAM
EMERAM is one of the leading investment companies for medium-sized companies in German-speaking countries. Funds advised by EMERAM currently provide €400 million in capital for the development of companies. The portfolio includes companies from the consumer, technology/software and services sectors.
For its companies, EMERAM acts as a long-term business development partner, promoting the growth (organic and inorganic) of its investments on a sustainable basis. Together, the team has successfully closed more than 60 transactions and supported the development of portfolio companies by serving on more than 50 advisory and supervisory boards. EMERAM was founded in 2012 as an independent partnership in Munich.
About Gimv
Gimv is a European investment company with 40 years of experience in private equity, originating from an initiative of the government of the Flemish Region (Belgium). Listed on Euronext Brussels, the company currently manages approximately €2.0 billion and currently invests in 55 portfolio companies with combined revenues of more than €2.5 billion and 14,000 employees. Gimv's ambition to make a positive value contribution to society is reflected, among other things, in the recently successfully launched Sustainable Bond, part of which is allocated to the acquisition of sofatutor.
Gimv identifies innovative, leading companies with high growth potential and supports them sustainably on their way to market leadership. Each of the four investment platforms Consumer, Health & Care, Smart Industries and Sustainable Cities is managed by a dedicated and competent team, each based in Gimv's home markets - Benelux, France and DACH - and supported by an extensive international network of experts.
Exiting Venture-Capital-Investors:
About Acton Capital Partners
Acton Capital is a leading venture capital investor based in Munich. Since 1999, the Acton team has invested more than €600 million in technology-based startups in Europe and North America, including market leaders such as Abebooks, AlphaSights, Clio, Etsy, HomeToGo, Mambu, Momox, Mytheresa and Vimcar.
About Frog Capital
Frog is a growth investor that provides capital and operational expertise to fast-growing, European and founder-led companies.
About IBB Ventures
IBB Ventures (www.ibbventures.de) has been providing venture capital to innovative Berlin-based companies since 1997 and has established itself as the market leader in early stage financing in Berlin. The funds are primarily used for the development and market launch of innovative products or services and for business concepts in the creative industries. Currently, two funds with a total volume of EUR 100 million are in the investment phase. Both VC funds are financed by funds from Investitionsbank Berlin (IBB) and the European Regional Development Fund (ERDF), managed by the State of Berlin. IBB Ventures has already invested in more than 240 Berlin-based creative and technology companies; in consortia with partners, the startups received approximately EUR 1.62 billion, of which IBB Ventures has invested more than EUR 240 million as lead, co-lead or co-investor. IBB Ventures is the umbrella brand for the VC activities of IBB Beteiligungsgesellschaft."
Contact:
Rayk Reitenbach
IBB Ventures
Bundesallee 210
10719 Berlin
Tel: +49 (0)30 2125 3201
Mail: info@ibbventures.de