update
Seniovo receives growth financing of 2.5 million euros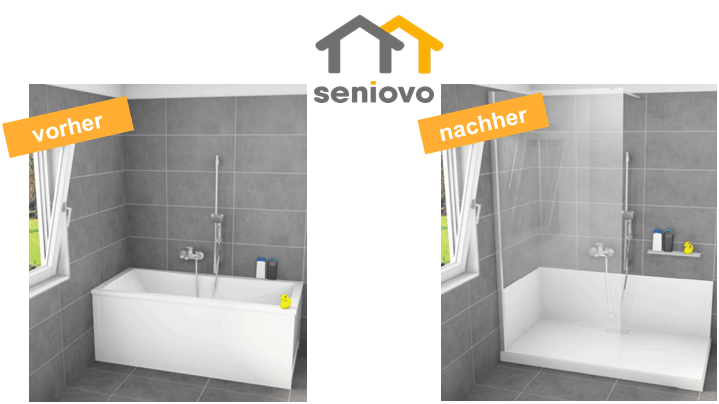 Seniovo receives financing from existing and new investors and funds from the Corona startup measures
Previously, a cooperation with Vonovia, Germany's largest real estate company, was closed
In the Corona Pandemic, Seniovo supports the growing demand for age-appropriate care in the home
Berlin, September 9, 2020 - The PropTech start-up Seniovo, which accompanies people in need of care throughout the entire process of age-appropriate and barrier-free conversion of their apartments or houses, is completing a further growth financing of 2.5 million euros. In addition to new investors, the existing investors around PropTech1 Ventures, Europe's venture capital investor for the unused innovation potential of the real estate industry, and IBB Beteiligungsgesellschaft participated in the financing round.
As part of a government package of measures, IBB Beteiligungsgesellschaft had only announced the launch of Pillar 2 "Corona support for start-ups" at the end of July, which supports innovative companies in the corona crisis that show extraordinary growth potential. Seniovo's current financing round is one of the first successful deployments of these funds.
In addition to further growth in the B2C sector, in which Seniovo has already successfully completed over 1,000 conversion projects, the investment serves to expand the B2B business, which recently reached a milestone with the cooperation agreement concluded with the leading residential real estate group Vonovia. On behalf of the tenants of Vonovia, the Berlin-based PropTech start-up is to modernize bathrooms in an age-appropriate and barrier-free manner and provide support in applying for subsidies. As a rule, the customers will not incur any costs, as these will be covered by the nursing care insurance fund up to EUR 4,000.
The popularity of the project on the part of investors as well as the increased demand of B2B partners is based on the one hand on the steadily growing share of elderly people in the total population of Germany. According to the social association VdK, for example, a further 3 million apartments suitable for senior citizens will be needed in Germany by 2030, while only five percent of all older people are already living in apartments suitable for the elderly. On the other hand, the Corona crisis has acted as a focal point on one of the central social issues in Germany, the nursing care crisis. Due to the increased risk of infection in old people's homes and nursing homes, more and more older people prefer to stay in their own apartments and houses as long as possible. The result is a shift from inpatient to outpatient care within their own four walls.
 Martin Schmidt, Co-Managing Director Seniovo:
"We are pleased that we were able to gain new investors even in these difficult times. With the funds we have raised, we will continue to leverage the great B2B potential in addition to the B2C segment, which is evident, for example, in our partnership with Vonovia, Germany's largest real estate portfolio holder. Together with our partners, the nursing care insurance funds and property management companies, we will also further simplify the application and approval processes for measures to improve the living environment."
 Jonathan Kohl, Co-Managing Director Seniovo:
"As a one-stop-shop, Seniovo offers the simplest way to make renovations suitable for the elderly. With the additional funds we can further increase our efficiency. In this way, we can keep the time from first contact to the conversion as short as possible for our customers and ensure consistent quality. By expanding our assembly capacities and partnerships, we are well positioned for future growth and are pleased to be able to help more and more people in need of care".
About Seniovo
The Berlin PropTech startup Seniovo offers as a one-stop shop on its online platform www.seniovo.de advising the target group for the barrier-free conversion in the nursing home. Seniovo digitizes the application and implementation process completely up to the implementation of the measures on site with its own craftsmen or certified partners. In many cases, people in need of care do not have to make a private co-payment. Seniovo's success rate in applying for subsidies for people in need of care is over 95%. In more than 1,000 residential units, Seniovo has already been able to facilitate barrier-free conversion. The start-up company counts PropTech1 Ventures, IBB Beteiligungsgesellschaft and the German Media Pool among its investors.
About PropTech1 Ventures
PropTech1 Ventures (www.proptech1.ventures) brings together leading real estate companies and entrepreneurs, serial entrepreneurs from the digital sector and venture capital experts in a venture capital fund focusing on the untapped innovation potential of the real estate industry in Europe. PropTech1 offers start-ups not only capital but also an extensive network in the traditional real estate industry, access to existing client bases and real estate portfolios as well as support in structuring further financing rounds. PropTech1 offers its fund investors access to highly focused deal flow, detailed market research, proven venture capital methodology, economic participation both through the fund and through direct co-investment opportunities, as well as moderated exchanges between other innovation-savvy real estate companies and with PropTech start-ups themselves.
About IBB Beteiligungsgesellschaft:
The IBB Beteiligungsgesellschaft (www.ibb-bet.de) provides venture capital to innovative Berlin-based companies and has established itself as the market leader in early stage financing in Berlin. The funds are primarily used for the development and market launch of innovative products or services as well as for business concepts of the creative industries. Since March 2015 two funds managed by IBB Beteiligungsgesellschaft are in the investment phase, the VC Fonds Technologie Berlin II with a fund volume of EUR 60 million and the VC Fonds Kreativwirtschaft Berlin II with a fund volume of EUR 40 million. Both VC funds are financed by funds of the Investitionsbank Berlin (IBB) and the European Fund for Regional Development (EFRE), managed by the State of Berlin. Since 1997, IBB Beteiligungsgesellschaft has provided approximately EUR 1.52 billion to over 210 Berlin creative and technology companies in consortia with partners, of which IBB Beteiligungsgesellschaft has invested EUR 217 million as lead, co-lead or co-investor.
Contact:
Christian Seegers
IBB Beteiligungsgesellschaft mbH
Bundesallee 210
10719 Berlin
Tel: +49 (0)30 2125 3201
Mail: venture@ibb-bet.de