update
Oculid secures seed financing round led by IBB Ventures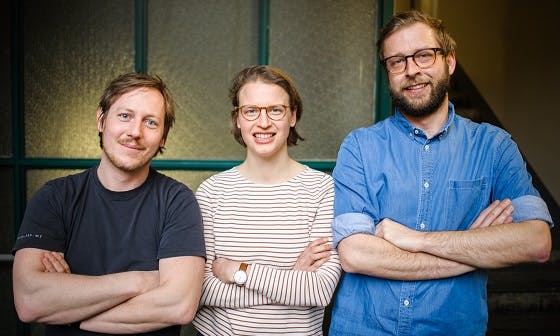 BERLIN, 20. Januar 2021 - Oculid, the eye-tracking platform for remote user testing and marketing research, today announced the closing of a seed funding round led by IBB Ventures. In addition to another new private investor, the company's existing investors are participating.
Oculid, one of the fastest growing and innovative user testing platforms, uses precise eye-tracking algorithms on smartphone cameras to help marketing and UX teams better understand their users' attention and behaviors related to their products and marketing campaigns during development.
"The future of user testing is here. Before Oculid, eye tracking user testing was costly and primarily conducted in labs under artificial conditions. As a result, eye tracking was not widely used or even unknown to many user researchers. We're changing that by offering highly accurate tests that can be performed on smartphones online for a fraction of the cost in the lab. This means anyone still in development can find out if websites or marketing campaigns will be effective. This translates into significant cost savings for these companies," said Dr. Antje Venjakob, CEO at Oculid. "In addition, given the circumstances caused by the pandemic, we are enabling companies to continue to gain valuable insights into the behavior of their users, regardless of where they are located." 
The new funding will be used to strengthen Oculid's presence in the European market and expand the platform's capabilities, including the launch of an iOS testing app. This also includes expanding the team of software engineers and marketers.
"The innovative business focus as well as the team, a TU Berlin spin-off led by Female Founder Dr. Antje Venjakop, excited and convinced us," said Sabine Wolff, Investment Manager at IBB Ventures.
"Oculid is a great team with a highly innovative product that offers significant customer value and represents an excellent opportunity. I am very excited to continue to support their journey," says business angel Alfred Moeckel.
About Oculid
Oculid (www.oculid.com) is a Berlin-based technology company founded in 2018 to extend user testing with eye movement analytics. The team of machine learning experts, user researchers and software developers is dedicated to improving remote user testing and marketing research by providing deep insights into user behavior and intent.
Media Contact:
Oculid
Agata Gaertner
Marketing Manager
agata.gaertner@oculid.com
About IBB Ventures
IBB Ventures (www.ibbventures.de) has been providing venture capital to innovative Berlin-based companies since 1997 and has established itself as the market leader in early stage financing in Berlin. The funds are primarily used for the development and market launch of innovative products or services and for business concepts in the creative industries. Currently, two funds with a total volume of EUR 100 million are in the investment phase. Both VC funds are financed by funds from Investitionsbank Berlin (IBB) and the European Regional Development Fund (ERDF), managed by the State of Berlin. IBB Ventures has already invested in more than 240 Berlin-based creative and technology companies; in consortia with partners, the startups received approximately EUR 1.62 billion, of which IBB Ventures has invested more than EUR 240 million as lead, co-lead or co-investor. IBB Ventures is the umbrella brand for the VC activities of IBB Beteiligungsgesellschaft.
Contact:
Sabine Wolff
IBB Ventures
Bundesallee 210
10719 Berlin
Tel: +49 (0)30 2125 3201
Mail: info@ibbventures.de