update
IBB Ventures and Athenion GmbH invest millions in digital health startup Motognosis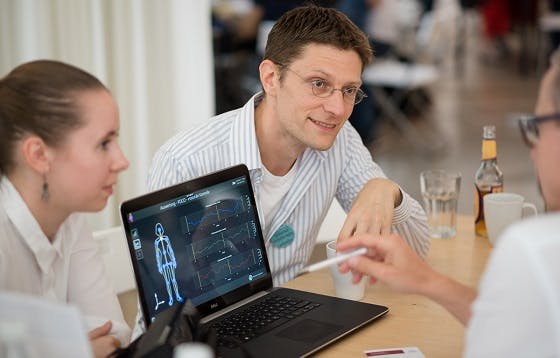 BERLIN, 21. Januar 2021 - Motognosis, a spin-off of the NeuroCure Clinical Research Center of Charité Berlin, announces that IBB Ventures and Athenion GmbH are now financing the further development of the company with a joint investment of millions. Both investors see enormous growth potential and increasing demand in the field of telemedicine, highlighted not least by the ongoing Corona pandemic.
Sebastian Mansow-Model, Co-Founder and Managing Director of Motognosis explains, "IBB Ventures and Athenion bring a lot of experience and a very diverse network in the demanding healthcare market. With the funding round from these strong partners, we are very well prepared for routine care and will soon be able to make our solution available to a large number of patients nationwide."
Ekkehard Brysch, CEO of Athenion GmbH commented, "I am very pleased about this successful cooperation. Motognosis is an innovative company that has the potential to further expand its good name in telemedicine. The Athenion Group is already an established player in the fast-growing market of digital care offerings, especially in telemedical care for people with chronic diseases such as Parkinson's disease. With Motognosis, we are generating a strong addition to the Athenion portfolio."
Daniel Steffen, Senior Investment Manager at IBB Ventures adds, "In addition to the software solution and the medical need, we were particularly convinced by the team with its excellent product, technology and market expertise. We are excited about the further development, where significant growth potential is already emerging in 2021 with the go-to-market of AMSA and the reimbursement option as DiGA."
Motognosis has developed the "AMSA" software, which allows people affected by Parkinson's, multiple sclerosis and other neurodegenerative diseases to analyze their motor symptoms from home. They very often suffer from balance and gait disorders or tremor. These strongly affect the quality of life and are of crucial importance for the assessment of the course of the disease as well as the choice of the appropriate therapy. In routine care, however, this assessment poses a major challenge, as patients are seen by neurologists only occasionally and are assessed subjectively. In rural areas, there is also the problem that up to half of those affected cannot be seen by a specialist at all. AMSA makes a significant contribution to overcoming these challenges, since the software is used as a measurement solution at home, with the patients. Medication or physiotherapy can be optimized remotely and personal visits to the doctor's office can be reduced to necessary occasions. Even hospital stays of several weeks to adjust the medication schedule, which are common in Parkinson's disease, can be shifted to the patient's home.
About Motognosis
Motognosis is a spin-off of the NeuroCure Clinical Research Center of the Charité Berlin and develops software solutions for independent measurement of symptoms by patients at home. The focus is on motor symptoms in neurological diseases such as Parkinson's disease or multiple sclerosis. The goal is to inform physicians and therapists quickly and accurately about symptom progression, providing patients with access to medical experts, individualized therapies and the best possible care. The Motognosis measurement solution has been validated in studies with more than 1,000 patients and is currently in research use at 10 university hospitals. AMSA is certified as a MDD Class Im medical measurement device and is now being launched as an intervention solution.
About Athenion
Athenion GmbH is an investment company and business incubator that focuses on the development and distribution of high-quality products for the pharmaceutical and telemedical markets as well as the life science sector. Athenion provides both capital and a comprehensive infrastructure on the basis of which the portfolio companies can develop and scale quickly and professionally. As soon as a development stage is reached that appears profitable and at the same time promises an impact, Athenion offers an investment to external investors or completes an exit.
About IBB Ventures
IBB Ventures (www.ibbventures.de) has been providing venture capital to innovative Berlin-based companies since 1997 and has established itself as the market leader in early stage financing in Berlin. The funds are primarily used for the development and market launch of innovative products or services and for business concepts in the creative industries. Currently, two funds with a total volume of EUR 100 million are in the investment phase. Both VC funds are financed by funds from Investitionsbank Berlin (IBB) and the European Regional Development Fund (ERDF), managed by the State of Berlin. IBB Ventures has already invested in more than 240 Berlin-based creative and technology companies; in consortia with partners, the startups received approximately EUR 1.62 billion, of which IBB Ventures has invested more than EUR 240 million as lead, co-lead or co-investor. IBB Ventures is the umbrella brand for the VC activities of IBB Beteiligungsgesellschaft.
Contact:
Daniel Steffen
IBB Ventures
Bundesallee 210
10719 Berlin
Tel: +49 (0)30 2125 3201
Mail: info@ibbventures.de