update
Jurafuchs receives funding in the millions. Co-founder Dr. Wendelin Neubert leaves Noerr and joins full-time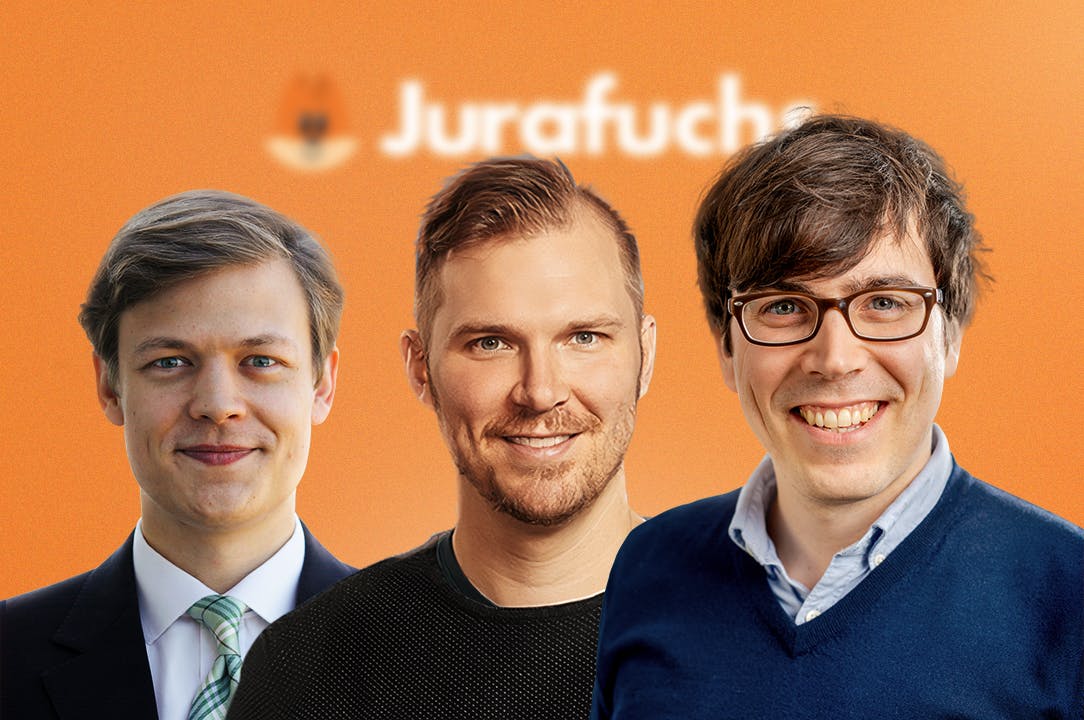 BERLIN, February 01, 2021 - IBB Ventures and renowned business angels from the industry are investing in the young startup Jurafuchs. The three-year-old company wants to make it easier for aspiring lawyers to prepare for exams and operates learning apps (iOS/Android) for this purpose.
The founders are the two lawyers Christian Leupold-Wendling, LL.M. (Cambridge) - formerly a lawyer at Hengeler Mueller - and Dr. Wendelin Neubert - previously a lawyer at Noerr - and the Internet entrepreneur Steffen Schebesta. Dr. Wendelin Neubert will work full-time on Jurafuchs from March 2021.
Jurafuchs (www.jurafuchs.de) is the leading learning app for legal education in Germany with 15 million learning experiences and 140,000 users. Jurafuchs offers legal microlearning content on textbook cases and current case law. Jurafuchs consistently relies on gamification and interaction. In the in-app forum, users can ask any comprehension questions and usually receive an answer within 48 hours.
Since the beginning of the Corona crisis in March 2020, Jurafuchs revenues have increased fivefold. At the end of 2020, Friedrich Schiller University in Jena became the first law school to purchase a Jurafuchs Campus license for all of its law students.
The capital from the financing round will be used primarily for the further expansion of the content and the further development of the product.
Christian Leupold-Wendling, co-founder and CEO of Jurafuchs, sees the investment as a very decisive step: "With the capital and the expertise of our investors, we can provide the more than 140,000 Jurafuchs users with what they have always wanted from us: Dramatically expand the content and develop more features that make learning law even easier by hand. The round secures funding for the startup and is a clear signal to users and universities that Jurafuchs will remain a reliable partner for the long term."
Dr. Stephanie Hundertmark, partner at a major international law firm and angel investor in Jurafuchs, comments, "The digital revolution in legal education is just beginning and digital learning will soon be standard. Jurafuchs is a smart solution with great growth potential."
Rayk Reitenbach, Investment Director at IBB Ventures adds, "Jurafuchs meets the needs of the target group and has the potential to expand both geographically and into additional target groups with its offering in the future. EdTech startups are benefiting from the underlying trend of digitalization in the education sector - further strengthened by the Corona crisis. We are excited to expand our EdTech portfolio with Jurafuchs and look forward to working with the team in the future. Through our EdTech investments in Babbel (https://de.babbel.com/), Blinkist (https://www.blinkist.com/de), Career Foundry (https://careerfoundry.com/), Skoove (https://www.skoove.com/de) and Sofatutor (https://www.sofatutor.com/), we know the specific challenges from our own experience and can support the successful further development of Jurafuchs."
About Jurafuchs
Jurafuchs (www.jurafuchs.de) was founded in 2018 by Christian Leupold-Wendling, LL.M. (Cambridge), Steffen Schebesta and Dr. Wendelin Neubert. Jurafuchs has the vision to provide basic legal education for all and in this way improve access to law. Since 2018, Thomas Holl, co-founder and CTO of Babbel, supports the Jurafuchs team in strategic planning.
Press contact
Jurafuchs (Go Legal GmbH)
Ebereschenallee 51
14050 Berlin
www.jurafuchs.de
Executive management:
Christian Leupold-Wendling, LL.M. (Cambridge)
lw@jurafuchs.de
+49 (0) 176 646 36 399
About IBB Ventures
IBB Ventures (www.ibbventures.de) has been providing venture capital to innovative Berlin-based companies since 1997 and has established itself as the market leader in early stage financing in Berlin. The funds are primarily used for the development and market launch of innovative products or services as well as for business concepts in the creative industries. Currently, two funds with a total volume of EUR 100 million are in the investment phase. Both VC funds are financed by funds from Investitionsbank Berlin (IBB) and the European Regional Development Fund (ERDF), managed by the State of Berlin. In addition, IBB Ventures invests in startups affected by the Corona crisis from its "Corona Aid for Startups" program. IBB Ventures has already invested in more than 240 creative and technology companies in Berlin; in consortia with partners, the startups received approximately EUR 1.62 billion, of which IBB Ventures has invested more than EUR 240 million as lead, co-lead or co-investor. IBB Ventures is the umbrella brand for the VC activities of IBB Beteiligungsgesellschaft.
Contact:
Rayk Reitenbach
IBB Ventures
Bundesallee 210
10719 Berlin
Tel: +49 (0)30 2125 3201
Mail: info@ibbventures.de