update
Marketing and KYC platform, future demand, increases financing in seed financing round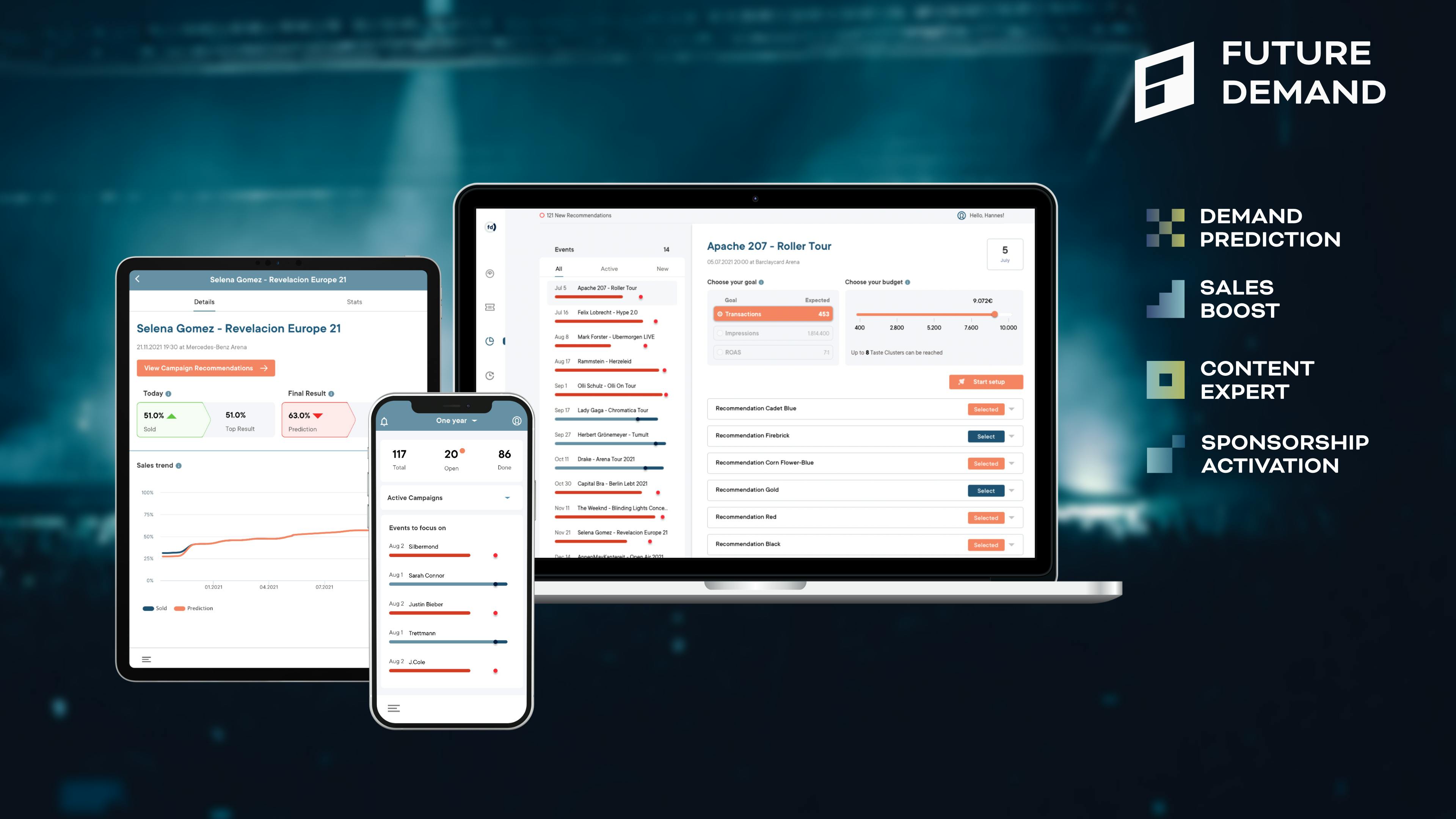 With the successful closing of their third funding round, future demand increases its capital raised to several million euros. The round was led by Berlin's IBB Ventures with several family offices and angel investors participating.
 Berlin, October 27, 2021 - future demand GmbH have successfully extended their seed financing round. In addition to most recently joined investor, IBB Ventures, investors include 360T founder Carlo Kölzer, consulting firm actori GmbH, as well as other family offices and angel investors with an array of expertise in marketplaces and B2B platforms.
 Before the COVID pandemic brought all live events to a halt, live event promoters already saw 40% of total tickets go unsold and about €47 billion in annual revenue lost worldwide. Now, as lockdown restrictions ease across the globe, promoters are eager to jump start their ticket sales hoping to make up for a lost year. Demand management and KYC platform, future demand, is stepping in to help ensure concert and sport promoters can leverage their fan bases and reach existing as well as new audiences.
future demand's AI based platform helps concert and sport promoters sell more tickets to their events by understanding their core audiences like never before. Their interest-based marketing solution, based on a similar technology that drives Netflix's content suggestions, is proven to beat all conventional socio-economic targeting approaches, with 90% time saved on campaign management, and 60% increase in ROI. Their platform, which boosts sales on existing platforms such as Facebook, YouTube and or Spotify, can be used for all types of live events, from live sports, to concerts, festivals, and even merchandise. It can also predict event attendance at an accuracy of over 95%, up to 2 years in advance to support the event planning process and reduce financial risk.
"Our platform uses collected client-specific data as well as data from hundreds of external sources to generate an unrivalled depth of understanding of what fans and visitors are interested in. Clustering audiences based on their real interest instead of socio-economic demographics enables a more diverse und realistic insight into their reasons to buy a ticket and visit a concert or game. Our Taste Cluster technology enables promoters to leverage this understanding for recommendations and marketing efforts."                    
Hannes Tronsberg, Founder & CEO of future demand.
This latest funding round cements future demand's long-term ambition as they gear up to support the industry to restart and jumpstart ticket sales in late 2021. Clients from all spaces of the live-entertainment and sports industry are using future demand's platform to sell more tickets, merchandise or increase viewership to free and paid streams.
Some of their clients include Bundesliga football club VfL Wolfsburg, Australian soccer club Sydney FC, classical music festival Lucerne Festival and the Bavarian State Opera.
Contact
future demand GmbH
Hannes Tronsberg
Urbanstraße 93
10967 Berlin
+49 30 403 656 100
tronsberg@future-demand.com
About future demand
future demand is the leading marketing and KYC platform for live-entertainment and sports promoters. It supports promoters in reaching existing and new audiences with unmatched efficiency and speed and enables better risks assessment by predicting demand for upcoming shows and concerts years in advance.
About actori
actori is Europe's leading consultancy in the areas of culture and live-entertainment. Their consulting services focus on solving strategic and economic issues of cultural and educational institutions, cultural and entertainment real estate, the public sector and businesses. In the area of marketing, they support customers in sponsoring, fundraising and marketing of communication areas. Their venture unit opens new business initiatives through start-ups and shareholdings. 

About IBB Ventures
IBB Ventures (www.ibbventures.de) has been providing venture capital to innovative Berlin-based companies since 1997 and has established itself as the market leader in early stage financing in Berlin. The funds are primarily used for the development and market launch of innovative products or services and for business concepts in the creative industries. Currently, two funds with a total volume of EUR 122 million are in the investment phase. Both VC funds are financed by funds from Investitionsbank Berlin (IBB) and the European Regional Development Fund (ERDF), managed by the State of Berlin. IBB Ventures has already invested in more than 240 Berlin-based creative and technology companies; in consortia with partners, the startups received approximately EUR 1.62 billion, of which IBB Ventures has invested more than EUR 240 million as lead, co-lead or co-investor. IBB Ventures is the umbrella brand for the VC activities of IBB Beteiligungsgesellschaft.
Contact
Clemens Kabel
IBB Ventures
Bundesallee 210
10719 Berlin
Tel: +49 (0)30 2125 3201
Mail: info@ibbventures.de