update
RGI ACQUIRES FLEXPERTO, A GERMAN PROVIDER OF DIGITAL SOLUTIONS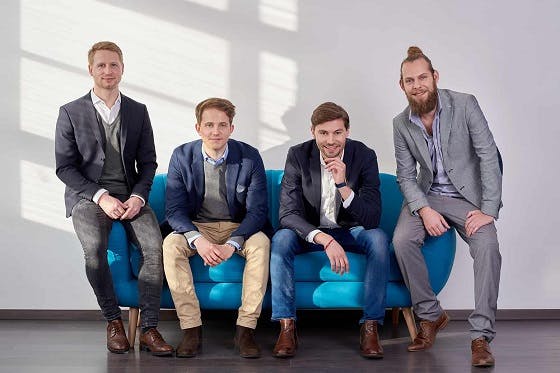 MAILAND/BERLIN, 14. April 2021 - RGI, the European leader in digital transformation for insurers, today announced that it has acquired 100% of FLEXPERTO, a German software provider for digital B2C communication and collaboration. RGI is a portfolio company of Corsair Capital.
The acquisition builds on RGI's pioneering role in Europe while strengthening the company's presence in the DACH region, which will thereby expand its range of cloud-based offering and communication services. FLEXPERTO will also help enrich RGI's ecosystem of innovative solutions - starting with NOVUM-RGI - that support the ongoing digital transformation of the European insurance industry.
FLEXPERTO has grown strongly since its founding in 2012. Since 2015, Deutsche Telekom's technology incubator hub:raum, IBB Ventures, Berliner Volksbank Ventures, alubi Capital, Marc Rindermann and other business angels had invested in FLEXPERTO in several financing rounds. Today, more than 100 enterprise customers rely on the solutions of the Berlin-based SaaS company, in particular numerous well-known brands in the insurance and financial services sector. The company offers a 100% web-based digital consulting platform that seamlessly connects all the tools and channels needed by salespeople to better communicate digitally with their customers. This enables insurers to increase their sales efficiency and offer a personalized, digital customer experience.
"Customer satisfaction is a key success factor in the insurance industry, and our clients have made great strides in developing digital services that make it easier, more understandable and more convenient to manage risk and provide an enhanced customer experience," said Cécile André Leruste, CEO of RGI Group. "A key aspect of RGI's long-standing strategy has always been to accelerate digitalization in the European insurance market, and with the addition of Flexperto's cloud-based communications platform, companies will be able to communicate easily and effectively with customers through digital channels."
Michael Kraus, Country CEO of NOVUM-RGI, commented, "I am very excited about the acquisition of FLEXPERTO, which will add value to NOVUM-RGI's customers. We believe that innovation, leading cloud technology and highly skilled people are key drivers for success in the insurance environment, and we look forward to working with FLEXPERTO to expand our leadership position in the market."
"Thanks to our partnership with RGI and Corsair, we are better equipped than ever to expand FLEXPERTO's activities into other European markets such as Italy and France. This is in line with our mission to become the European market leader for digital B2C communications in financial services. Through the merger, we combine RGI's core systems expertise with our digital customer experience know-how. In addition, in the area of secure communication archiving and signature solutions, we will henceforth be able to offer our own solutions from within the group," explains Felix Anthonj, CEO of FLEXPERTO. "The global pandemic has shown how important a seamless digital communications experience has become for any end-user facing business and we look forward to continuing our growth trajectory and increasing our development deployment."
Raja Hadji-Touma, Partner at Corsair Capital, Strategy and Finance Partner at RGI, commented, "In today's digital world, insurers are looking at fully leveraging the potential of technology to simplify and digitize their core processes, and the addition of FLEXPERTO will enable RGI to expand both its solution offering and geographic footprint to better serve its growing client base. This acquisition aligns with RGI's strategic growth initiatives and we are confident that the company will expand its global footprint and leadership position through opportunities in the insurance technology sector."
The transaction was accompanied by Oaklins Germany (https://www.oaklins.com/) and BMH Bräutigam (https://bmh-partner.com/).
About RGI
RGI is one of the leading providers of comprehensive digital solutions for the insurance market, with a rich and modular offering focused on core insurance processes, including policy administration, claims handling, market management, and distribution and sales in life, accident and property. With a team of around 1200 insurance and IT professionals operating from 21 locations in Italy, Ireland, France, DACH, Maghreb and Luxembourg, RGI has digitized the business of more than 120 insurers and 300 brokerage companies everywhere. RGI is a portfolio company of Corsair Capital, a leading global investor in the financial services industry. www.rgigroup.com 
About FLEXPERTO
Flexperto GmbH is the leading software provider of digital B2C communication and collaboration. With its web-based solution, sales employees can communicate via video chat, instant messaging or via one of the various collaboration modules (online appointment booking, screen transfer, digital signature, etc.) and increase their sales efficiency. Thanks to its high level of integration with companies' IT landscapes, such as CRM systems and customer portals, and its focus on data protection and IT security, Flexperto has become the preferred partner for digital consulting, especially in the insurance and banking sectors.
About IBB Ventures
IBB Ventures (www.ibbventures.de) has been providing venture capital to innovative Berlin-based companies since 1997 and has established itself as the market leader in early stage financing in Berlin. The funds are primarily used for the development and market launch of innovative products or services and for business concepts in the creative industries. Currently, two funds with a total volume of EUR 100 million are in the investment phase. Both VC funds are financed by funds from Investitionsbank Berlin (IBB) and the European Regional Development Fund (ERDF), managed by the State of Berlin. IBB Ventures has already invested in more than 240 Berlin-based creative and technology companies; in consortia with partners, the startups received approximately EUR 1.62 billion, of which IBB Ventures has invested more than EUR 240 million as lead, co-lead or co-investor. IBB Ventures is the umbrella brand for the VC activities of IBB Beteiligungsgesellschaft.
Contact:
Daniel Steffen
IBB Ventures
Bundesallee 210
10719 Berlin
Tel: +49 (0)30 2125 3201
Mail: info@ibbventures.de