update
GoTo Global acquires Germany's leading scooter sharing provider emmy, continuing European expansion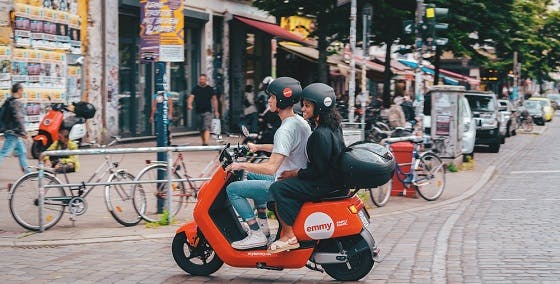 Berlin, October 06, 2021 - GoTo Global Mobility today announced the acquisition of emmy, the market leader for electric scooter sharing in Germany. The strategic acquisition significantly expands GoTo Global's European footprint. The company is thus targeting an accelerated market entry in Germany to achieve annual revenues of more than €100 million by the end of 2023.
emmy rents electric scooters via app and allows its customers to find, reserve and immediately use the scooters in a city. With a fleet of over 3,000 scooters in Berlin, Hamburg and Munich, the company is the market leader in Germany. More than 350,000 customers have registered via the app and covered more than 22 million kilometers on scooters.
"The acquisition gives us an immediate presence in Germany and brings us a big step closer to our mission of bringing multimodal, shared mobility to every major European city by 2025," commented Gil Laser, CEO of GoTo Global. "We believe that multimodal transport is the future of modern urban transport. We are therefore pleased to now establish our unique technology platform in the German market and enable German commuters to move around much more comfortably in the future."
Laser added: "The integration of emmy into GoTo is a solid foundation for us and ensures a strong user base that will significantly accelerate awareness of our offering in the German market. As a result, we are now on track to achieve 100 percent annual growth in 2021. We know that our mobility offering goes right to the heart of the urban mobility problem. Currently, we expect to be at least 30-36 months ahead of other platforms and offerings in the market."
GoTo Global offers various mobility solutions via a common app in Spain, Israel, Malta and now also in Germany. This makes GoTo Global the world's leading provider of multimodal mobility services. GoTo Global's main investors include WeWork founder Adam Neumann. The company provides commuter:in access to a range of transportation options, including cars, vans, electric scooters, kickscooters and bicycles, and has seen exceptional growth in recent months. With the acquisition of emmy, the company is now able to provide millions of rides across the European continent with its fleet of thousands of different vehicles.
"emmy's customers will immediately see the benefits of the acquisition once we introduce GoTo's unique technology. It will allow them to easily complement their scooter rides with car rides and other micromobility options," said Valerian Seither, CEO of emmy. "We have always believed in the future of urban mobility without a personal vehicle. This acquisition therefore fits perfectly with our vision. It will help reduce the number of private vehicles in German cities and thus lower CO2 emissions. From a business perspective, we expect to triple our annual sales in Germany as a result of the introduction of the new means of transport."
Over the next few months, the technical integration will be driven forward and preparations made for expanding the fleet. In the first half of 2022, customers in Germany should then be able to access the expanded offering.
Prior to the acquisition, GoTo Global secured $22.5 million in recent financing rounds. The company is currently in an ongoing investment round to finance the further expansion of its mobility services in Europe.
About emmy
emmy offers spontaneous short-term rentals of electric scooters. The company was founded in 2015 by Alexander Meiritz and Valerian Seither in Berlin and is the market leader in Germany. The location and rental of the scooters is done via app. The scooters are equipped with two helmets in different sizes and disposable hygiene hoods. In addition, the scooters have replaceable batteries. The charging process is handled by emmy itself, so long charging times and poor charging infrastructure are irrelevant for users. More than 3,000 scooters are available to customers in Berlin, Hamburg and Munich.
About GoTo Global
Founded in Israel in 2008, GoTo Global is the world's leading provider of multimodal mobility services. GoTo Global's vision is to provide users with easy access to shared mobility solutions. Through a proprietary technology-based app, GoTo Global enables booking of cars, vans, mopeds, scooters and bicycles. The company currently operates in Spain, Israel, Malta and now Germany, performing millions of trips with a fleet of thousands of different vehicles.
About IBB Ventures
IBB Ventures (www.ibbventures.de) has been providing venture capital to innovative Berlin-based companies since 1997 and has established itself as the market leader in early stage financing in Berlin. The funds are primarily used for the development and market launch of innovative products or services and for business concepts in the creative industries. Currently, two funds with a total volume of EUR 100 million are in the investment phase. Both VC funds are financed by funds from Investitionsbank Berlin (IBB) and the European Regional Development Fund (ERDF), managed by the State of Berlin. IBB Ventures has already invested in more than 240 Berlin-based creative and technology companies; in consortia with partners, the startups received approximately EUR 1.62 billion, of which IBB Ventures has invested more than EUR 240 million as lead, co-lead or co-investor. IBB Ventures is the umbrella brand for the VC activities of IBB Beteiligungsgesellschaft.
Contact
Stephan Schulze
IBB Ventures
Bundesallee 210
10719 Berlin
Tel: +49 (0)30 2125 3201
Mail: info@ibbventures.de