update
Elucid Secures Significant Funding to Revolutionize Agri Supply Chain Sustainability and Farmer Health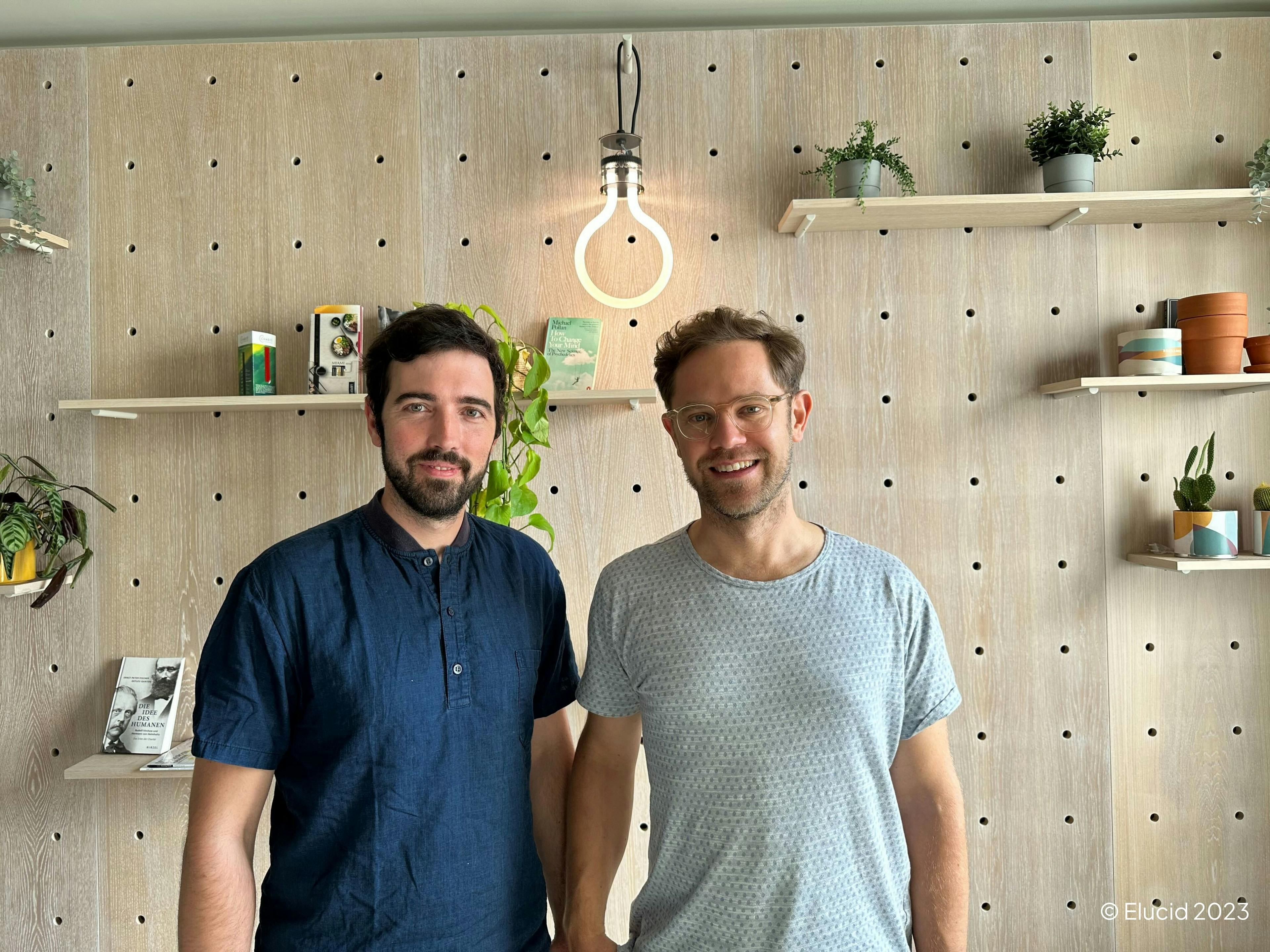 Berlin, September 15, 2023 – Elucid, a Berlin-based sustainability tech firm, is excited to announce the successful close of its latest funding round. A group of impact-focused investors is backing Elucid's mission to reshape global supply chains and improve the lives of smallholder farmers.
Elucid's mission is to bridge the gap between ethical sourcing and improved farmer health and livelihoods by offering an innovative solution that benefits both companies and smallholders. The company's founders, Dr. Julius Emmrich and Dr. Samuel Knauss, German neurologists, global health researchers, and digital health experts, have created a pioneering data-driven solution that addresses pressing challenges in supply chain transparency and farmer well-being.
Investor Powerhouse
The funding round received overwhelming support from an impressive group of investors including the Impact Funds of IBB Ventures, elea Foundation for Ethics in Globalization, Katapult Africa Seed Fund, Atreyu Investments, Aude Ventures GmbH, Imaginal Seeds, FINCA Ventures and Satrana Ventures . The collective commitment of these investors underscores the importance of Elucid's mission in transforming the landscape of sustainable supply chains.
A Win-Win Solution for Sustainability Reporting and Farmer Health
Elucid's solution offers a dual impact: enabling companies to access reliable data for impact and sustainability reporting while simultaneously providing healthcare coverage to farmers in global supply chains. With upcoming national and international regulations mandating increased human rights risk assessment and reporting, Elucid's platform emerges as a pivotal tool for companies to gather critical health, social, and economic data for regulatory compliance while driving positive social impact.
Early Success and Future Vision
Since its inception in February 2022, Elucid has rapidly gained traction, already providing healthcare coverage to farming communities in Ghana, Madagascar, Ecuador and Venezuela. The company's ambitious goal is to extend the number of farmers and their family members directly benefiting from Elucid's services, to over 500,000 by 2025. Elucid's strong commercial traction is underscored by multi-year contracts with prominent manufacturers in the cocoa and fresh fruit industries. The successful funding round will enable Elucid to drive growth across Africa and Latin America, expanding its impact on farmers' lives and supply chain sustainability.
"In view of the significant challenges of regulatory requirements for companies in the EU and the US to identify and assess human rights risks in global supply chains, we see great potential in the growing market of reliable supply chain due diligence data. With Elucid's unique and scalable tech platform, data collection and reporting duties can be leveraged with access to healthcare, thereby providing real impact for smallholder farmers", comments Dr. Hannah Braun, Investment Manager IBB Ventures.
About Elucid
For more information about Elucid and its pioneering work, please visit www.elucid.social.
About elea Foundation for Ethics in Globalization
elea invests capital and strategic support in entrepreneurially led ventures that create lasting social impact by providing access to employment, markets, and value chains for people living in absolute poverty. Across Africa, Asia, and Latin America, we target ventures with innovative, economically viable models that eventually attract further capital and catalyze change in their ecosystems. Our investments are centered around employable skills, last-mile retail and services, agricultural value chains, and climate and livelihoods.
Contact Person
Tina Ruchti
elea Foundation for Ethics in Globalization
Wiesenstrasse 7; 8008 Zürich
info@elea.org 
About Katapult Africa Seed Fund
Katapult is an investment company focused on highly scalable climate-impact tech startups and ecosystem building. Our world-class accelerator programs strengthen our seed investments into these startups. Katapult's investments and accelerators are currently organized around three key strategies: Ocean, Climate, and Africa. Established in 2017, Katapult's portfolio now includes 146 startups, of which two have grown to become 'impact unicorns'.
Following 18 successful investments into African operating impact tech startups before 2022, Katapult launched our dedicated Africa strategy last year, announcing 16 investments and running two Africa accelerator programs. We are proud to include and support Elucid as one of our portfolio companies.
Contact Person
Danny Smith
Katapult Africa Seed Fund
Universitetsgata 2; 0164 Oslo, Norway
danny@katapult.vc 
About Atreyu
Atreyu Investments ("Atreyu") is an Impact Investor based in Mauritius and a pioneer in the field of Regenerative Investing. Atreyu invests in solutions that reverse the degradation of our planet and enhance the well-being of its communities to create a healthier, more inclusive future for all. Through the regenerative approach, Atreyu supports its investees in realizing their full potential for positive impact, fostering resilience, agility, and creativity.
Contact Person
André Stürmer
Atreyu Investments
andre@atreyu.global 
About Aude Ventures GmbH
Aude Ventures GmbH, located in Bad Homburg, invests as a business angel in startups with a focus on sustainability. The primary emphasis is on solutions related to climate change and the loss of biodiversity.
Contact Person
Heike Spiller
Aude Ventures GmbH
Stettiner Straße 47, 61348 Bad Homburg
office@audeventures.de
About Imaginal Seeds
Imaginal Seeds is a trust which holds the vision of a world that is just and sustainable, in which all communities can thrive within planetary boundaries. Our mission is to facilitate reparative and regenerative models of wealth redistribution that advance social equity, economic justice, and ecological resilience.
Contact Person
Ann Goh
Imaginal Seeds
ann@imaginalseeds.com
About FINCA Ventures
FINCA Ventures is an impact investing initiative of FINCA International which builds on 40 years of experience creating a global microfinance network that delivers financial access at scale. FINCA Ventures invests in high-impact social enterprises whose products and services support smallholder farmers, families on the margins, and microbusinesses to build more resilient and prosperous communities. For more information, visit www.FINCAVentures.com or follow us on Twitter @FINCA.
Contact Person
Melissa Tickle
FINCA Ventures
Melissa.Tickle@finca.org 
About Satrana Ventures
Satrana Ventures was founded in 2020 on the belief that purpose-driven entrepreneurship can transform Madagascar. Our partners have 20+ years combined experience in building businesses and investment and we provide early-stage funding to empower the next generation of entrepreneurs, shaping the future of Madagascar's society and economy.
Our portfolio comprises six investments around the themes of digital inclusion, tech for good,  future of work, impact finance and next-generation consumer goods.
Contact Person
Tsiory Kabath
Satrana Ventures
salama@satranaventures.com
https://www.satranaventures.com/
https://www.linkedin.com/company/79172468/
About IBB Ventures
IBB Ventures has been providing venture capital to innovative Berlin-based companies since 1997 and has established itself as the market leader in early-stage financing in Berlin. The funds are primarily used for the development and market launch of innovative products or services as well as for business concepts in the creative industries. In addition to our two VC funds for Berlin-based technology and creative industries startups with a combined volume of EUR 90 million, our impact VC fund with a volume of EUR 30 million has been in the investing stage since 2022. All our funds are backed by Investitionsbank Berlin (IBB) and the European Regional Development Fund (ERDF), administered by the State of Berlin. IBB Ventures has already invested in more than 260 Berlin-based creative and technology companies; in consortia with partners, the start-ups received more than € 1.8 billion, of which IBB Ventures invested more than € 275 million as lead, co-lead, or co-investor. IBB Ventures is the parent brand for the VC activities of IBB Beteiligungsgesellschaft. 
Contact Person
Dr. Hannah-Sophie Braun
IBB Ventures
Bundesallee 210; 10719 Berlin
Tel: +49 (0)30 2125 3201
info@ibbventures.de